MAKINO'S A55E SETS NEW STANDARD FOR HIGH-SPEED, HIGH-VOLUME MACHINING
Mason, OH—September 2000—Faster. More productive. More accurate. Makino has raised the bar once again for high-speed horizontal machining centers with the new A55E, the latest addition to its A55 family of machining centers and the new industry standard for enhanced speed and productivity. The A55E is equipped with new geometric intelligence software, advanced thermal control technology, an enhanced spindle for faster acc/dec speeds and the Rocket Table, a 40 rpm rotary table that is twice as fast as other machining centers on the market.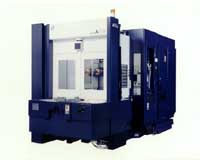 "Packaged together, the new features of the A55E dramatically improve speed without sacrificing any accuracy," explains Greg Hyatt, process R&D manager at Makino. "Based on the application, we're seeing anywhere from 10 to 30 percent more productivity, a real testament to Makino's focus on high-speed machining and the technology supporting it."
A host of technological enhancements in machine design distinguish the A55E as the industry's most productive 400mm pallet machining centers.
Built for Speed
Makino's new Geometric Intelligence Software looks ahead in the part program for toolpath changes and compensates on the fly for machine dynamics to hold high machining accuracies at high cutting feedrates. The new software allows for everything from .5g feedrates for production work all the way down to .1g for fine, detail work. And acceleration and deceleration in rapid traverse can now reach 1.0g. With faster acceleration and deceleration, Makino's integral cartridge spindle can handle high rpm with low vibration for fast, accurate machining operations. As powerful as it is fast, the A55E provides unmatched start-to-finish processing efficiency.
Makino's new Rocket Table puts multiple workpieces in range of the spindle immediately, reducing non-cut time. Operating at speeds up to 40 rpm, the Rocket Table has full fourth axis capability and special planetary gear design with large diameter clamping and repeatability. The high-rpm table doesn' t lift before rotating, allowing it to position simultaneously with Z-axis positioning.
The A55E Handles the Heat
The A55E's thermal control technology delivers enhanced spindle cooling, ballscrew cooling and efficient coolant delivery, improving accuracy and prolonging the lifespan of the machining center. Its patented core cooling system and under race lubrication cool the spindle from the inside out, eliminating the need for a warm-up cycle and keeping the spindle cooler than its housing. That makes heavy bearing preload possible from a cold start, allowing the A55E to cut immediately at lower speeds.
High-speed machining means more chips. It makes chip removal critical, especially during heavy hogging and dry machining operations. The A55E delivers a 12.8" (325 mm)-wide trough positioned in the middle of the machining area and comes with moving way covers and a double belt chip conveyor for maximum chip removal. The large 170.3 gallon (645 L) coolant tank capacity acts as heat sink, removing heat from the workpiece and tool.
Core cooling of the ballscrew dissipates heat to prolong overall life of the ballscrew and increase accuracy during use. Chilled oil is pumped through the ballscrew to help it stay accurate at high speeds and keep the proper tension on the screws for high performance.
Maximum Flexibility
A host of design elements make Makino's A55E suitable for an array of machining applications.
The A55E delivers the largest work envelope in the industry. In addition to the envelope size, the A55E now accepts longer and heavier tools to handle a large variety of part features, such as deep boring operations. The powerful A55E spindle can get closer to the centerline of the pallet to access all part features while optimizing tool length.
The A55E casts a smaller footprint, taking up less floor space in the shop. It has a narrower design for more spindle power in less space and has a lighter and shorter column for better feedrate acceleration.
The A55E delivers modular capability, specially designed for easy conversion to a machining cell with no major front-end changes.
The bed has multiple ribs for better stiffness and rigidity to improve accuracy.
Three-point leveling bed makes for easy deployment and redeployment.
The A55E's servo-driven ATC can change the tool in the spindle in 0.9 seconds, including the opening and closing of the door. HSK tooling is changed in .7 seconds. It has an increased size capacity, capable of handling larger, heavier tools for more flexibility across a wide range of applications. Beyond the standard 29-tool magazine, the A55E offers 60, 90, 137, 181 and 225-tool magazines as well. Tool location time is faster (6-8 seconds) and chip-to-chip time is an industry-best 2.7 seconds, decreasing non-cut time.
Makino is a global provider of advanced machining technology and application support for the metalcutting and die/mold industries. Makino manufacturing and service centers are located in every major country, including the United States, Germany, Japan, Singapore, Italy, France, Korea, Taiwan, China, Mexico, Brazil, India and Turkey and are supported by a worldwide distributor network. For more information call 1.800.552.3288, or visit Makino on the Web at www.makino.com.
For more information
Media interest should be directed to media@makino.com .
All other requests for more information should be directed to webmaster@makino.com or 1-800-552-3288.