MCD1816 - HIGH-SPEED & ACCURACY
Makino's MCD1816 horizontal machining center supplies the heavy metal removal rates, exacting precision and excellent surface finishes required for forging dies, large molds and other heavy but high-precision workpieces. Makino showcased those abilities as the rugged MCD1816, with its 10-ton table capacity, performed Flush Fine machining on a forging die, a glass mold, and a plastic mold cavity.
Flush Fine is a high-speed, high-definition and low-heat machining process pioneered by Makino. It combines high spindle speeds with precisely controlled, high-pressure coolant or forced air to blast away chips and prevent heat buildup, either in the workpiece or the tool. This permits high-speed machining with greater thermal stability and chip control, resulting in a high metal removal rate and longer tool life. The superior accuracy and finishes obtained from the process reduce the need for subsequent EDMing or benchwork for dies and molds, reducing lead times and boosting profitability.
—>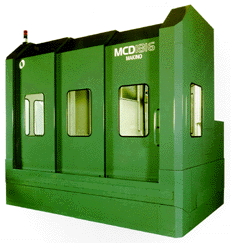 The MCD1816 is equipped with a table that provides 0.0001" (0.003 mm) indexing accuracy for multi-face machining and greater setup efficiency. At IMTS, the machine was also equipped with a tombstone workholding fixture, improving spindle access to the part and boosting productivity.
Other key features of the MCD1816 include a highly rigid, long nose spindle that improves machining capabilities for deep cavities and heavy-duty jobs, a double spiral chip conveyor that efficiently removes large volumes of chips and coolant, a wide opening enclosure door designed to facilitate the loading and unloading of large parts, a high-pressure coolant system and a 30-tool ATC.
The rigidly constructed MCD1816 provides axis travel of 1,800 x 1,600 x 1,300 mm (71 x 63 x 51 in.) — XYZ axes, respectively — worktable length of 1,300 x 1,300 mm (51 x 51 in.), a rapid traverse rate of 16,000 mm/min (630 ipm), and a No. 50 taper spindle.
For more information
Media interest should be directed to Kevin Dugan at media@makino.com .
All other requests for more information should be directed to webmaster@makino.com or 1-800-552-3288.