MOLD MACHINING FROM CRADLE TO GRAVE
The whole industry seems to be discussing this topic. Here's what 
Modern Machine Shop
 has to say about "Mold Machining From Cradle To Grave".
By Peter Zelinski
Many companies offer sophisticated machine tools for mold making, but Makino (Mason, Ohio) believes it is unique in its ability to engineer complete, streamlined mold making processes for customers. That's why the company savors IMTS, says Die/Mold Marketing Manager Steve Colston.This is one of its best chances to line up graphite mills, ram and wire EDMs, and horizontal and vertical machining centers in front of key mold and die producers to communicate the "total process" idea.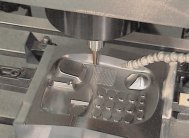 In cooperation with Pioneer Communications Corporation - Actual Model: TF-JP55
The vehicle for delivering that message this year, in Booth A1-8400, is a display the company calls the Cradle-to-Grave mold making process. Makino has engineered and optimized a complete process for machining an injection mold.
Although the mold is not a sophisticated one, it is highly representative of jobs that a large number of mold makers can relate to (it's for a telephone housing). Makino engineered its process to minimize the total lead time for this and similar molds. 
The mold itself is on display. Visitors can inspect its finish. They can also examine the molded parts it was used to make. They can see videos of each step in the mold makingprocess, through and including injection molding. And they can compare the elapsed time for each of the mold making steps to the times they are used to.

In cooperation with Pioneer Communications Corporation - Actual Model: TF-JP55
"In the die/mold sector, I don't think any other builder is in a position to put together a complete single-source solution like this," Colston says.
One example of the time-saving innovations in the process is the company's "HQSFTM" (for High Quality Surface Finish) approach to ram EDM. HQSF TM uses a conductive powder inthe dielectric fluid, along with filtration and software features, to dissipate higher-energy EDM sparks over a larger surface area. This speeds EDM cycle time. It also produces surfaces smooth enough for many molds to go straight to texturing, without any additional finishing once EDMing is done.
Re-posted with permission. Copyright © 1998 by Gardner Publications.
Click here for more industry news from Modern Machine Shop