The objective of the demonstration is to highlight a feature on the U53 that gives the operator the option to "burn" the slug left behind while the geometry is still being machined.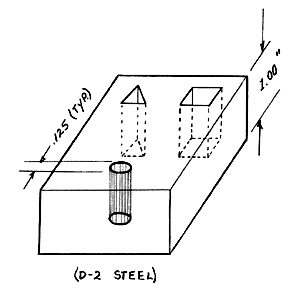 Process Benefits
With the U53, slug removal is conveniently added to the overall machining process — permitting operators to be absent while the machine is running to process slug removal.
Specifications
Approximate run time: between 12-18 min. per detail.
---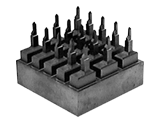 Gang-Machining Demo Summary
The objective of the demonstration is to display an innovative way of processing multiple workpieces from a single setup. Multiple connector inserts will be produced as an example of the machine's capabilities.
Process Benefits
The U53 demonstrates several strengths of the adaptive control when machining in very poor flushing conditions and constantly changing workpiece thicknesses.
Specifications
The total machining time for each rotation of the workpiece is approximately 7 hours and 20 minutes. The roughing pass is 6 hours and the skim pass is 1.5 hours per pass.
---
Auto-Wire Threading Demo Summary
The objective of the demonstration is to show the Automatic Wire Threader (AWT) unit that is a standard feature on the U-series wire EDM.
Process Benefits
The reliability of the auto-threader as it threads through differing workpiece thicknesses and through varying diameters of holes
The speed at which the AWT cycle takes place
The simplicity of the AWT mechanism which virtually eliminates any maintenance that is traditionally required to assure consistent unattended wire threading
Specifications
Approximate AWT cycle time in this demo is 45 sec.