Making better headlights in less time brightens the road ahead for Redoe Mold
Close tolerances are critical for generating moulds that produce optical-quality headlight and taillight lenses for autos.  Redoe Mold Ltd. of Windsor, Ont., a large producer of these type of moulds, found that its older machine tools just couldn't cut it anymore.
In business since 1969, both President Patrick Endo and Vice President Ed Regan have years of experience with moulds.  Endo took drafting and design courses and then apprenticed as a mould engraver for five years.  Both Endo and Regan started their careers at the International Tool Company that was located in Windsor.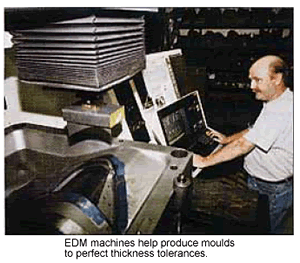 "International Tool was a big learning ground for people getting into the mould industry.  They were doing about 90% auto work for the Midwest states in the U.S., " says Endo.
Once they had enough experience, Endo and Regan struck out on their own and started Redoe Mold and Engineering Ltd.  That first small facility is now the location of a fish and chips restaurant.  Redoe outgrew the space.
"We were originally connected with the scale-model toy producers, AMT and Model Products, that made kit cars and airplanes in Detroit," says Endo.
"We also dabbled in some automotive work, but before too long, we had more automotive work than toys and dropped the toys.  This turned out to be a good idea, because the toy business went offshore."
In 1970, Redoe Mold had an opportunity to work with a division of International Tool to make moulds for its Reflex Lighting Division.  These moulds were very difficult to produce.  They required a class A (mirror-like) surface, and the various walls in the mould had to be held to a perfect thickness tolerance (about 0.001") for optical requirements.
Today, Redoe has 135 employees, two facilities and full engineering capabilities.  They specialize in these difficult moulds for headlights and tailights.
These moulds can't have any surface blemishes on the class-A surfaces, says Endo.  To make them, you must stay within 3 to 5 microns Ra surface finish requirements.  "Also, all tolerances must precisely match the CAD data," he adds.
Within the mould, there are machined internal reflective surfaces designed to give the plastic part of the ability to spread light in a specific pattern, so that there are no dark spots within the light seen by an oncoming driver.  These steps in the mould that produce the reflected surfaces are critical and can take hundreds of hours to machine.  Some moulds might have close to a thousand small reflectors while others have up to fifty, depending on the design.
With their older machine tools, the company couldn't hold the 0.001" tolerances on the moulds.  Also, the machines weren't able to handle increased cutting speeds and feeds that are required today to produce a mould faster and with tighter tolerances.  Endo says they would machine the mould and have the surface finish produced by hand, adding hours of labour.
"We were awarded a Best-in-Class for mould optics by the Ford Motor Company in 2002," says Endo.  "So we needed new machine tools to help us keep this title and do our moulds faster and more precisely.  This is what we were always targeting for when we were trying to look for machines.
"Prior to buying our three new Makino machine tools, we looked at many others.  Machine tool suppliers brought us fantastic-looking moulds they cut to show us their machine's capabilities, but when we checked the mould's tolerances, they weren't within specifications.  We were very surprised that they even sent a mould sample to us, because they didn't check their tolerances.
"One manufacturer cut a mould, sent it to us and we checked it on our CMM (coordinate measuring machine).  We told him he failed," says Regan.  "He said, 'I'll cut it again.'  So he cut it again and we checked it.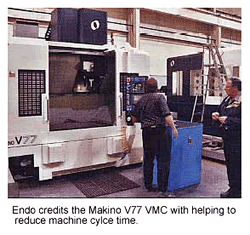 He failed again!  I was surprised he would even send it again, rather than say, 'My machine can't do it.'  We went through the QC (quality control) process, and told him where he failed.  But with the Makino machines, went through the same test process and they were great."
Regan said they bought three Makino machine tools, one is horizontal machining centre (HMC) Model 2013 and the other two are vertical machining centre (VMC) model V77.
Endo adds, "I visited each machine tool supplier and was given demonstrations.  SST (a Makino supplier, Auburn Hills, Mich.) and Makino have knowledgeable sales staff and technicians who recognized our stringent requirements and provided the best solution for our needs.  Seeing the machines under power in Mason, Ohio and in Michigan convinced us."
How do the Makino machine tools save mouldmaking time for Redoe?
Regan says, "On our old machines we have one operator per machine.  But, with the Makinos we only need one operator to supervise three machines."
Redoe is also using the high-speed machining capabilities of the Makino machines.  They are machining moulds accurately at 20,000 r/min using heat shrink tool holders with solid carbide ball end mills and indexable-inserts with different coatings.
Regan adds that the machine cycle time is actually a bit longer than before.  But this is because the Makinos are doing much more of the finishing work that was once a downstream operation done by hand. Because the machines can finish to precise tolerances, Regan says that the time savings on finishing moulds has been cut by more than half.
After machining, the areas that need a class-A surface are done by hand using diamond polish.  but the machine tools can take the surface to a finish that dramatically reduces the operator's labour.
"I thought the high-speed Makinos were going to cut my job time in half.  If I have this job, and it normally takes me 100 hours, can I do it in 50 with them?  It depends on the mould and the geometry of the reflectors.  So, the part might take 75 hours, but the accuracy of the mould halves is incredible, saving down-stream finishing and fit time that are labour intensive.  Our spotting crews might spend up to five days fitting in the moulds by grinding the surfaces.  But if the mould is cut more accurately, they'll fit together with little extra work."
Endo adds, "We are now able to reduce our deliveries to customers because of the time savings to machine the mould.  We have built a number of moulds that didn't require handwork to the core.  This has saved us even more time.  Gains have also been achieved in spotting.  Spotting is required as little as one third of the time that was required three years ago."
For their moulds, Endo says they use only hard stainless steels.  However, they might use aluminum for tryout dies that don't require the extensive production that the stainless steel dies do.
Along with mould work, the Redoe Group, another division of the company, produces QC gauges, end-of-arm robot tooling, assembly fixtures, hot-plate tooling, sonic-weld fixtures, project management, and design and engineering work.  They will also construct complete automates-assembly cells to produce finished parts, which could involve gluing or sonic welding several parts together to produce an assembly.  This type of work is required more often by the automotive OEMs notes Endo.

Repurposed With Permission of Canadian Machinery and Metalworking.