When machining titanium became all the rage back in the early 2000s, every shop wanted to claim they were doing it because it was a "big deal" at the time. Fast-forward to today, and many of those same shops are still cutting titanium. However, they are using outdated equipment and technology that's too slow for time-sensitive and tight-margin jobs.
When it comes to aerospace precision machining, there is much better equipment available.
Geared-head spindles have been historically used to provide the torque required for titanium milling. Today, some manufacturers are discovering that machining centers with high-torque integral drive spindles are now used for machining titanium with better results. These improvements have led shops like Davis Tool to make the switch, allowing for more flexible and efficient aerospace precision machining.
In fact, since many of Davis Tool's parts are sensitive, non-disclosure aerospace components, they chose not to send out samples for testing and opted to conduct their own testing on site. It was through this testing that they discovered an integral drive spindle could outperform their current traditional geared-head machines.
Davis Tool used computer modeling and statistical analysis to compare performance curves of their current geared-head machines versus newer integral drive spindles to determine estimated cut times and the potential efficiency a pallet handling system could provide for their setup. The tests yielded positive results when cutting on a modern machining center with a high-torque integral drive spindle, demonstrating improved acceleration and deceleration rates, increased flexibility, and higher potential tooling speeds due to the 8,000-rpm spindle. Additionally, improved cycle time efficiency in titanium milling resulted from the inclusion of a pallet handling system.
These data points proved that Makino's M-package high-torque integral drive spindle would be able to outperform geared-head machines, sometimes by a significant margin. In fact, there was no performance or efficiency downsides to making the switch; which was surprising considering Davis Tool was used to machining titanium with geared-head spindles.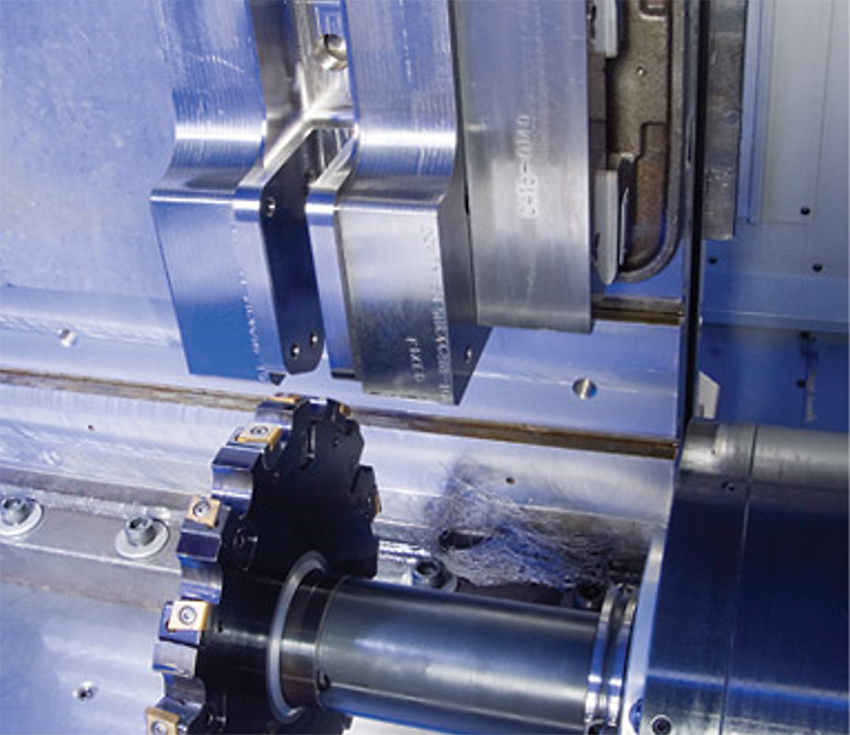 Manufacturers are discovering that machining centers with high-torque integral drive spindles are now able to machine titanium with better results.
After testing, Davis Tool purchased two Makino
a82Ms
and a
Makino Machining Complex (MMC2)
, replacing five geared-head spindle machines. The a82M included a high-torque spindle package designed to handle the demands of titanium milling and other difficult-to-machine materials. This two-machine cell was dedicated to precision machining of complex titanium aerospace components.
Makino's a82M horizontal machining centers feature 8,000-rpm, 50-hp spindles with 744 foot-pounds (1,009 Nm) of torque and a 43.2-by-32.3-by-40.1-inch work zone. Each of Davis Tool's a82Ms has a 300-tool magazine. But despite the claims and benefits, many at Davis Tool refused to believe that two machines could out-perform the five geared-head machines.
It took actual side-by-side comparisons to prove that a significantly more efficient machine, combined with an automated pallet handling system like the MMC, was able to eliminate a great deal of wasted time in all areas. The Makinos would have been much faster than their geared-head machines even as stand-alones, but throwing an MMC into the mix added a whole new level of efficiency, eliminating substantial periods of out-of-cut time in precision aerospace machining.
Since installation, the company has reported higher metal removal rates, increased accuracies, greater throughput, and reduced setup times, with an overall cycle time reduction of 25-50% in titanium milling projects previously run on geared-head spindles. The shop staff were stunned as they watched metal removal rates of their titanium milling applications go through the roof. They were able to take an 800-pound titanium block and machine it down to 90 pounds in only four operations. Total machining time was 100 hours in the a82Ms, compared to over 200 hours in the geared-head spindles. In addition to cutting faster and more efficiently, they also realized a gain in floor space and tool life—all while increasing accuracy.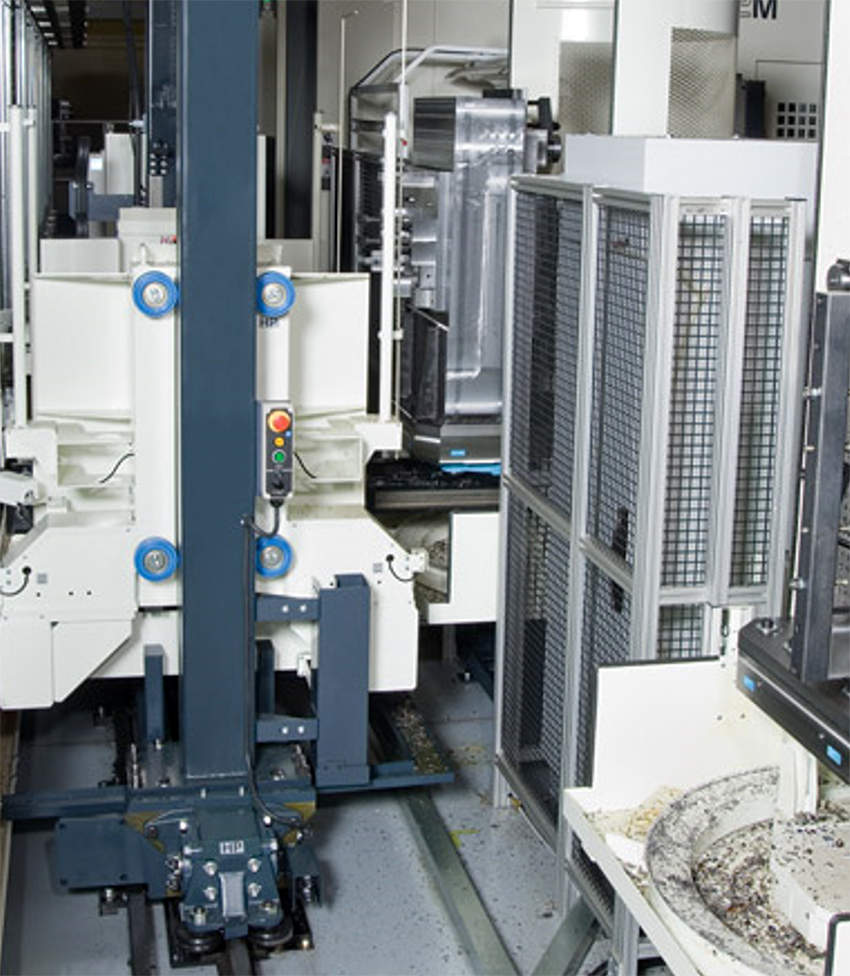 The new a82M cell takes up half the floor space of the five previous machines, allowing Davis Tool to fit a Makino MCB1310 and pallet handling system into the newly freed space. Achieving twice the metal-removal rate, the shop is spending half the money per cubic inch of metal removed. In addition, parts produced on the a82Ms are holding true position tolerances to 0.003 inches, dimensional tolerances down to 0.0006 inches, and milling surface finishes as fine as 32 micro-inches. These tolerances were unobtainable on their old geared-head machines.
"We've gone from a situation where we can't move the parts through the shop fast enough to waiting on material ... our suppliers can't keep up with us."
Davis Tool, Incorporated was founded in 1980 by Ron and Diane Davis to provide machining and tooling to high-tech industries. At its inception, DTI was housed in a 2,000 square foot building and had 2 employees. Since that time DTI has grown to occupy over 210,000 square feet of space and employs over 140 manufacturing professionals. Today DTI provides a wide range of custom manufacturing services to many high technology industries including medical, consumer products and aerospace.
Davis Tool's first Makino was purchased in 1987. Davis Tool presently owns a broad range of Makino products including MC40's, MC1516's, MCB1310's A55E's, an A51, A82M's, an A92 and a MAG1. A number of which are contained in multi-machine / multi pallet Makino Machining Complex cells.
"We know that our competitors are constantly improving, and to stay a leader we must do the same,"
says
Ron Davis, Jr.
, executive manager.
"We invest in new technologies because it makes our shop more productive than others, and because, in the long run, it makes us more efficient and more profitable."
Included in those technologies is automation. Davis has several automation cells, including three Makino pallet handling systems.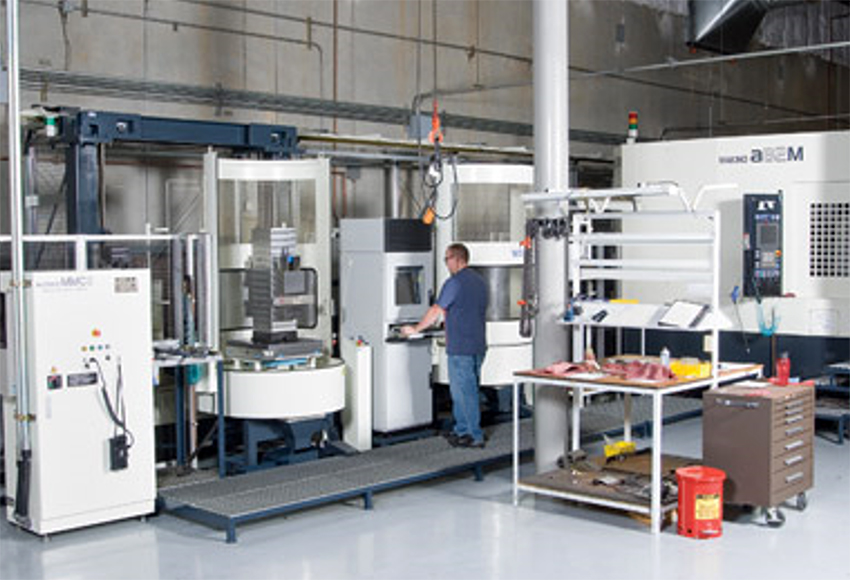 "The programmers and operators have become skilled in automation techniques, customizing the perfect schedule for our job shop environment,"
says Davis.
By running smaller, combined quantities in a high-mix, low-volume job show, Davis Tool has proven there still is enough flexibility and throughput to get jobs done quickly. In fact, results have been good enough to justify purchasing three additional flexible manufacturing systems. Adding these cells has improved the downtime that previously was an issue when a machine would sit idle for two or three days. Considering that automated cells can retain multiple setups, there's no wasted time setting up something only to take it down and then set it up again. This increase in efficiency has provided a significant boost to Davis Tool's capacity.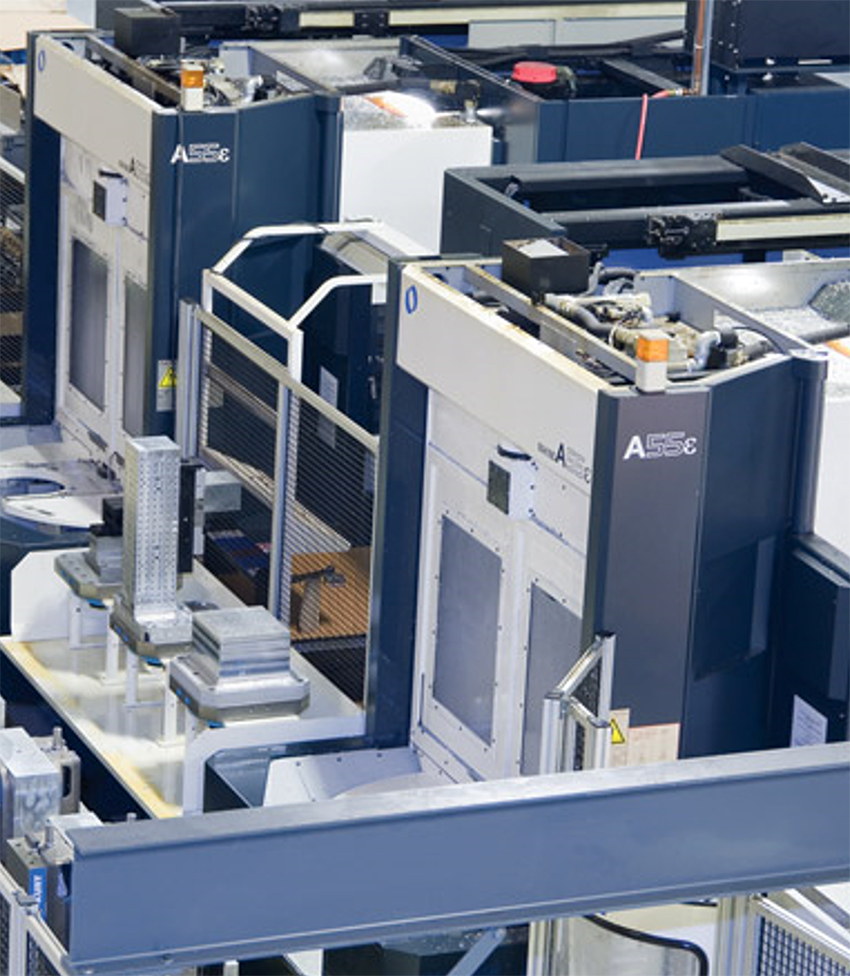 Metal-removal rates are through the roof.
Before the a82M cell, the shop's bottleneck was typically the geared-head machines. The new bottleneck is material. One of the challenges that still remain is waiting on suppliers to keep pace with Davis Tool's new production pace. Having extra bandwidth to produce has opened up Davis Tool's ability to take on other parts—parts they may have turned away in the past, in fear they'd lose money on the job or not be able to keep the tight schedule required to fulfill the contract.
"It's very hard when you're a shop owner who can't take a job because you're unsure if you can handle it,"
says Davis.
"It's always difficult to guarantee tight delivery times when working with outdated technology. Now that we have a titanium milling cell cranking out parts quickly and a flexible setup that allows us to always be cutting, we're taking on the jobs we hesitated on in the past."
Because the pallet handling system doesn't have to wait for setup or programming, Davis Tool can always be cutting. The process does not stop when setup or testing is required. In addition, metal-removal rates have increased so dramatically that they're able to promise jobs with tight lead-times. Adding high torque integral drive spindles in an automated titanium cell is just one more way Davis Tool is keeping its eye on improving processes. Since they are at 95 percent spindle utilization, there's talk of possibly adding a third and fourth machine to their titanium milling cell and additional pallets. In fact, the only
"problem"
that Davis Tool seems to have currently is that they don't have more a82Ms on hand.
"Now that we have a titanium cell cranking out parts quickly and a flexible setup that allows us to always be cutting, we're taking on the jobs we hesitated on in the past."
Davis Tool Inc.
Hillsboro, OR
(503) 648-0936
www.davistl.com