EDM SHOP THRIVES ON POWDERED METAL DIES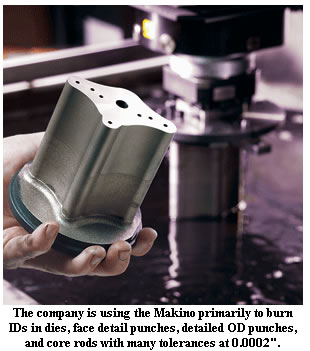 Manufacturing dies for powdered metal part production requires some specialized EDM equipment and techniques to achieve the production, precision, and profitability needed to assure a shop's survival and growth.
Two years ago, Gerg Tool & Die (St. Marys, PA), which specializes in dies and tooling for the powdered metal industry, was looking for an EDM sinker machine for a specific part. The company had tried to use its existing equipment to manufacture this part, but was having difficulty achieving the accuracy and the finish needed for this component.
Today, with the addition of a Makino EDNC43S and the company's HQSF™ dielectric fluid additive technology, Gerg is making this part successfully and with excellent results. The company has been able to add more capability than it had originally planned when it purchased the machine. And, the Makino additive-based technology has a major impact on finishing time, with a 40% – 50% or better improvement of achievable surface finish over conventional EDM sinkers in similar applications.
"Usually parts that come out of a powdered metal die have to have some secondary work," says Tony Gerg, CEO. "But with the finish and accuracy we are getting on the EDNC from Makino, some of these secondary processes are eliminated. This saves our customers time and money."
A Growing Market
The powdered metal industry is growing each year.
According to industry estimates, Gerg says growth of six to seven percent a year is expected for each of the next five years. And because the powdered metal process is a fast and extreme-pressure process, tooling and dies must be built to withstand pressures that a typical injection mold will never be subjected to. And, parts often need to go through a multiple step process if they are made of powdered metal instead of cut from steel or another alloy.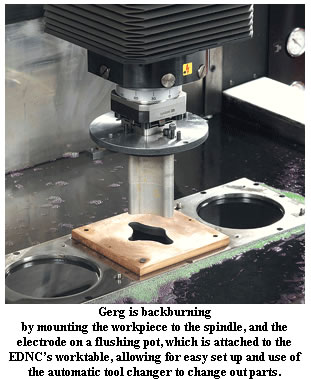 Turnaround Time
Because of the growth and process speed in the manufacture of powdered metal products, turnaround times at Gerg can be extremely tight. "We deal with both small and large customers," Gerg says. "And with a lot of companies we do business with, we are their only tool vendor because we deliver on time and they know that their tools are going to be right. We're sometimes lucky to get three or four weeks to turnaround a part for a customer – and sometimes only two weeks. And many of our tolerances are 0.0002". So, we're rushing – but we're getting jobs done correctly and on time."
Today, the company employs 19 and runs two shifts, often six days a week. Among Gerg's customers are a variety of automotive, appliance and lawn and garden equipment manufacturers. As a Tier Two automotive supplier, Gerg must meet stringent standards. The company was one of the first in the area to become an ISO 9001:2000 registered company in an effort to meet its customers' needs and to stay ahead of the competition with machining technology.
Backburn Flushing
Gerg says he did a lot of comparison-shopping before settling on the Makino EDNC. "We knew we needed another EDM machine for this specific application, so we sent out a part for testing to Makino and some other companies, and also visited Makino's facility. We had some ideas of our own on how to produce it, and they came back with a process and wrote a macro program for contour machining this particular part. This was one of the selling points for us on this machine and on Makino as a partner company to Gerg."
"We knew that we would be able to use the machine for backburns and other applications specific to the powdered metal dies we make, but this isn't a market in which Makino had a lot of experience," says Gerg.
John Bradford, EDM applications engineer for Makino, says that to get the most out of the backburning process, Gerg ordered from Makino in Japan a flushing manifold that supports up to 10 flushing pots. This unique programmable flushing unit, permits the controller to individually direct flushing to the individual flushing pot that has been designated to be used by the operator. This programmable flushing technology creates optimum flushing pressures at each individual pot location.
Traditional flushing techniques could only distribute the total system flushing pressure across all flushing pots, thus potentially reducing the required flushing pressure that would be needed at a given pot location.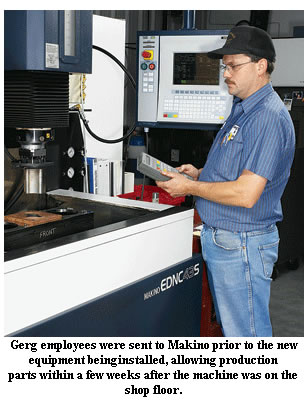 Gerg is backburning by mounting the workpiece to the spindle, and the electrode on a flushing pot, which is attached to the EDNC's worktable. This allows for easy set up and use of the automatic tool changer to change out parts. The flushing pot design provides an encapsulated space for optimum flushing results, utilizing a connected flushing line running into the manifold and constantly evacuating dirt and debris from the burning area. This alone helps to reduce cycle times dramatically.
Cycle-Time Savings
With cycle-time savings estimated at 40%, Gerg is thrilled with the performance he is seeing from the Makino. "We're 40% or more faster on backburns. And, even better than that, we can save 75% on bench time by burning certain face details with the HQSF dielectric fluid we have in the tank. That's a huge savings for a company of our size."
Other than backburns, Gerg says the company is using the Makino primarily to burn IDs in dies, face detail punches, detailed OD punches, and core rods. "With tool changes, it can take us quite a while to set up a job. This is one obstacle to us running the Makino lights out all the time – the sheer number of tools that certain dies require. But, some of our dies may take 40 hours to backburn, so we'll run that overnight or on weekends."
Gerg says that business is good these days. "We're keeping busy with work. When everyone else has been slow for the last two years, we've continued to grow and stay busy. Part of this is due to the fact that the Makino has helped us to free up time on our other machines and to cut down significantly on bench time. We could run some of our other machines lights out, but we won't get the accuracy and precision that we get every time from the Makino," he says.
Two-Way Street
Getting employees trained on the Makino equipment was easy, says Gerg. "We sent the operators to training at Makino before we took delivery of the machine. Then, once we had it installed, we were making parts within the first couple of weeks. Since then, we have continued expanding our capabilities and we're making parts and getting extra work that we hadn't planned on before getting the machine."
He adds that his programmers and operators continue to work cooperatively with Makino to get optimum results from its programs, equipment, and technology.