FOCUS ON MODERN LEAN MANUFACTURING METHODS DELIVERS RAPID RESPONSE SUCCESS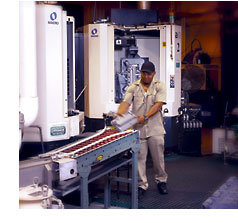 Product lead-times in today's automotive parts production supply chain are an ever-shrinking commodity. The OEMs continue to reduce the time it takes to launch new products into the marketplace, including for the "new domestics"– commonly defined as foreign-owned auto manufacturers with North American assembly facilities.
These operations continue to reduce inventories and place greater burdens on the supply chain. The time window from final design to assembly is shorter than ever before. And tier-one suppliers need to get as close to the design, scheduling and manufacturing requirements of its OEM partners as possible.
Spartan Light Metal Products routinely collaborates with its automotive customers on part processes early in the design and development phase. Recently, Spartan needed an extremely fast turnaround on a complete turnkey machining solution for a major global automotive manufacturer.
Spartan needed to change course quickly because of difficulties in their original manufacturing approach and existing equipment. They were encountering reliability issues, which put at risk the ability to deliver on time with this particular program.
"We turned immediately to Makino because the company understood the urgency of our situation," said Tony Brown, strategic account manager at Spartan. He noted Makino salesman Bill Myers jumped at the opportunity to assist Spartan with its high-volume production process.
"Bill didn't blink an eye," said Brown. "He understood exactly what needed to be done to meet our tight timeframe, to provide a cell concept for single-piece part flow, and he committed his organization to meet our requirements."
A History of Meeting Needs [back to top]
Henry Jubel founded Spartan Light Metal Products in 1961 with a handful of employees. Over 40 years later, the company has grown to approximately $180 million in annual sales. Spartan's mission statement is to be "The Global Value Leader in Light Metal Technologies…through engineered solutions and competitive costs."
The company specializes in designing, developing, validating and producing aluminum and magnesium die castings for power train applications. Spartan is design-responsible, durability testing capable and an accredited full service supplier within the automotive community.
The company's manufacturing competencies include aesthetic finishing, heat treating and the machining and assembly of full sealing systems. This includes cam cover systems, oil pans, oil control systems, and transmission systems for a full array of automotive as well as non-automotive customers.
The QS9000/9001 and ISO14001 company has 600 employees at the Sparta, Illinois plant and 160 employees at the Mexico, Missouri plant. Eighty percent of the company's business comes from major automotive industry customers like Ford, GM, Honda and Toyota.
The Project [back to top]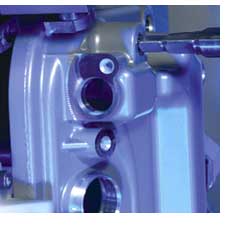 With a mere five weeks available to deliver reliable production on a valve cover for the automotive manufacturing customer, Spartan needed a machine supplier that could assist them in providing more than just a machine tool. They needed a complete, reliable, capable machining process delivered in record time.
Like its industry peers, Spartan carries a significant investment for a customer order while ramping up its production and tooling. This is done in order to have the capability to produce the final order once Start Of Production (SOP) is achieved. Before a profit is turned on a new job—sometimes two to four years into the project—Spartan often has several million dollars tied up in the program.
Understandably, this can affect the decision of which machine to purchase. "We often have to carry cost in order to add capacity," said Tom Heizer, machining and assembly manager. "And it is hard to justify capital expenditures, especially with the volatility of the production market today.
"Makino brought us the right solution when we were in a tight spot, minimizing risk in an already tough situation. And our uptime productivity is enhanced—the proof is simply on the floor."
Rapid Response [back to top]
Spartan purchased three Makino a61 horizontal machining centers and added these to an existing A66 machine in a parallel manufacturing cell concept. They also purchased a turnkey engineered process solution from Makino including modifications and enhancements of existing fixtures, tooling and programs.
"Makino installed two machines in two days, and three machines in just one week. The installers worked many hours a day and understood the pressure we were all under," said Brown.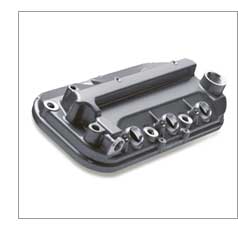 "Makino had a top notch installation staff that came down and installed those machines. The quality and dedication of the service we received was unprecedented. Simply amazing!
"It was an all-out boot camp, for lack of a better description," said Brown. "For more than 40 days straight, we worked to get things ready and the Makino guys—installation, application, sales and engineering—were all there by our side, for as many days as we needed them and without question. We are especially grateful to Karl Lippert and Don Minning from Makino.
"This effort required tremendous teamwork between the automotive company, Spartan and Makino. Makino's project management ensured that the process was complete and successful. The result not only produced the automotive company project on schedule, but it also solved Spartan's needs, saved the company significant time, and reduced overall part production costs."
Improved Operations [back to top]
"Spartan Light Metals runs a 24-hour-a-day production operation, with three shifts underway five days a week," said Brown. "That is necessary to keep up with our volume demands for all projects, including this major project."
This current operating cell arrangement includes the four horizontal machines as well as conveyors, an inspection station and an assembly area. An Andon board provides visibility to the cell output. The system is designed for single piece part flow and requires no "work in process" inventory.
On this particular automotive valve cover, the Makino horizontal machining centers drill and tap coil boss holes. They also ream and bore pressure area returns and PVC tube holes in the piece.
The cell machines then bore and finish spark plug tubes as well as the interfacing mating seals. And they perform thread milling for an oil fill component and the mating surfaces for the seals. There are 10 tools used in the total process.
Spartan is operating at 89 percent efficiency of all possible hours in the cell, including planned maintenance time. They estimate that the actual machine uptime is 98 percent of available hours.
"The Makino machines are simply the most reliable machines on the floor," said Jim Gardner, machine technician.
Enhanced Performance [back to top]
"The Makino is a sharp machine," said Gardner. "By that I mean it is accurate or more capable than the other machines we use around here. The Makino's are faster and more operator friendly.
"The diagnostics save us time. When you are programming, the screen has direct access to where you need to be. You don't have to page through a bunch of parameters, like you do with other machines. This saves a lot of time."
"In addition, with the Makino machines we have an easier setup for the part process and we can better control our positional tolerances," said Gardner. "We have quicker dial-in now, and the a61s just start running—we don't have to warm them up, which gets our production going faster."
Built For Lean Manufacturing [back to top]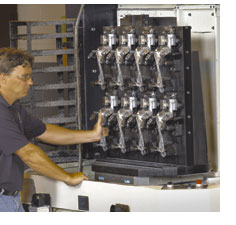 A critical element in the Spartan improvement is the implementation of lean manufacturing methods and the use of visual management tools in the Makino cell. Applying lean principles to this process has had a dramatic impact on productivity and cost, especially with only one operator responsible for four machines.
Makino uses an auto door function on the pallet changers. At the conclusion of each cycle, the doors automatically open as the signal to the operator that the process is complete and the parts are ready to be removed. This resulted in significant reductions in machine idle time, which reduced overtime costs by 40 percent.
In addition, Makino uses Continuous Pressure Hydraulics (CPH) on the fixtures, including extra ports and an air circuit. The air part detect sensors on the fixtures ensure that the parts are properly seated. This prevents scrap parts due to misalignment or improper positioning on the fixture.
"We also know from the machine operators that we have better hole positioning and surface finishes on our parts with the Makino machines," said Steve Gordon, launch engineer at Spartan. "The Makino machines change tools in less than one second and can also do parallel processing during the tool change. That is something that the employees at Spartan are also impressed with.
"We get the B-access and tool change at the same time. This also helps us achieve more productivity. Spartan is running tools at higher feeds and speeds, as well as faster cycle times, due to the rapid movement of the Makino machine and its tool changing capabilities. The overall reliability of the machines has improved productivity even further."
Performance and Cost Savings [back to top]
Another advantage that Spartan has experienced with the Makino machines is less tool breakage. This is especially true on the "thriller tool," a combination tool that is very brittle at M6 sizes.
"Before Spartan purchased the Makino machines, we would go through three or four of these tools a week, at almost $300 per tool," said Gordon. "With Makino's spindle load monitor, we know when to change tools before they break."
"If a tap was broken and we didn't know it, we may have ruined 15 to 30 parts before your next gauge frequency," said Dennis Wegener, machining cell leader for the program. "Avoiding that failure saves our company significant costs each year in taps alone, and even more by preventing damaged parts.
"We are also now able to thread mill the oil feed hole instead of tapping it due to the accuracy and capability of the Makino machine and control. We could not maintain accuracy on our previous machines and process. This improves cycle time and reduces our tooling costs even further."
In the past, Spartan would also experience downtime due to machine crashes once or twice per month. These events could cause up to three hours of downtime each time.
Makino application engineers put a macro program into the machine in order to protect it in the event of an incorrect tool offset, thereby eliminating machine crashes. Spartan also experienced reductions in downtime due to chip management issues, as the work zone stays clear of chips and doesn't require production stoppage for chip management.
Training and Service [back to top]
The Spartan employees were under such a tight deadline with this automotive project that they did not have time to go off-site for training. Makino then brought the training to Spartan through the application engineers and installation staff that assisted them.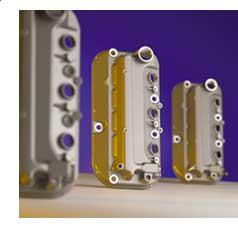 "We received comprehensive training at our shop on the actual machines, which was quite helpful," said Brown. "Since then, we have had time to go into more in-depth training and we have sent several employees to Makino to take advantage of the training they have there. We have even begun to use the new online training modules for the Makino 1-Series horizontal machining centers.
"To me they have great service and support," said Gordon. "The application engineer was good to work with, and the technical support has also been excellent. If we had any trouble, they would help. When we called the 800-number there was always someone available and we didn't have to wait.
"It's obvious that Makino focuses on customer service—if you say it cannot be done, Makino proves you wrong—it can be done! I definitely have trust in the company. If it sends me something, I know it will be good," said Gordon.
This level of training and service completed an atmosphere of lean manufacturing success created by the tremendous teamwork between the automotive company, Spartan and Makino. Such teamwork helped ensure that this turnkey engineering project was completed and successful.
The unparalleled dedication of Spartan's employees and the Makino engineers insured that the automotive customer's extremely tight schedule and quality requirements were met without sacrificing quality.
This effective implementation of a high-technology production solution requires not just an effective machine platform. It also requires know-how and dedication to guarantee successful deployment in order to ensure that a capable, robust and reliable production process is created to match customer requirements.
Spartan Light Metal Products, Inc.
Corporate Headquarters
St. Louis, Missouri
Phone: (314) 620-2500
Web: www.spartanlmp.com