LOU-RICH LANDS A BIG ONE . . .
It's a Makino machining cell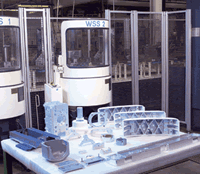 Located in the heart of Minnesota sport fishing territory, Lou-Rich Inc. has become an expert in producing various products and assemblies as a contract manufacturer for the medical, agricultural, industrial, and construction markets. A diverse operation, the company also has a side business that manufactures and markets its own custom brand of collapsible fish landing nets, StowMaster, to reflect its regional heritage.
This broad expertise led to the company needing to "land a big one" and acquire new technology and machinery to maintain its reputation, according to Jamie Blomquist, machine tool programmer at Lou-Rich. He says that growing performance demands, and changing customer priorities often caused the company to operate in a "panic manufacturing mode" due to dependence on older technology.
"We put as much work as we could on our stand-alone vertical and horizontal mills, and then we did a lot of outsourcing to small shops in the area," says Blomquist. "We did what we had to do to get the job done, and sometimes we were not very efficient. Then we migrated into the Makino Machining Complex (MMC) cell with two Makino A55E horizontal machining centers. We took the transition one part at a time, and not only eliminated our outsourcing but also greatly enhanced our cycle times.
"One particular part with four setups and operations used to take over an hour in a vertical mill. We now do that part complete in 15 minutes, with no setup and two operations on the Makino MMC. We have eliminated our setup costs and decreased our machining costs between 25 to 75 percent per part."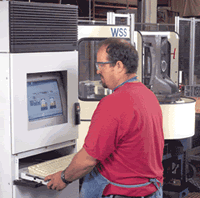 Lou-Rich Inc. began as a tool and die shop in 1972. The company has since evolved into a large production shop for precision machining, sheet metal/plate fabricating, welding, painting, assembling, testing, packaging, tooling, and distributing. It operates at its 240,000-square foot operation in Albert Lea, Minnesota, and at branch facilities in Hayward, Minnesota and Brandon, South Dakota. It additionally offers extensive manufacturing and engineering services to "help their customers outperform their competitors," which is its number one goal.
But, in order to remain competitive, management knew that it had to invest in high technology equipment to maintain cost efficiency and quality output. "As an employee-owned corporation, our people understand the value of good equipment," says John Gulbrandson, senior manufacturing engineer for Lou-Rich. "I buy 90 percent of the equipment that comes into our facility, and if it doesn't meet or exceed our needs, I hear about it.
"Since we brought in the Makino MMC with the two A55E horizontal machining centers (HMCs), I've heard nothing but good things. Our people appreciate seeing a good product in here. They want to run good equipment, and the Makino operation is as good as it gets. It is up and running around 99.9 percent of the time up, which allows us to accomplish a great deal of work for our customers."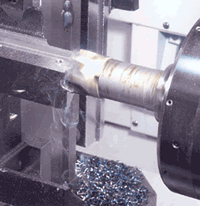 Defining the market
Acquiring Makino machinery has helped further define the company in the marketplace, according to Gulbrandson. "What led us to acquire the MMC was we were asked to quote a large, major assembly job for a customer that was vital to our business. We started utilizing our current stand-alone machines to run some prototypes, and quickly realized they were not going to get the job done.
"We looked at several different machining cells, including Makino. The Makino cell simply provided a level of performance that far outweighed any direct comparison with other machine tool companies. The other machining cells considered did not match the performance or have the features of the Makino MMC.
"Makino not only sold us a machining cell, it provided us with solutions," adds Gulbrandson. "The project consists of parts that are a high mix with low volume, so one of the things we really looked at was set-up time. When we reviewed how many hours we would spend, we found we would lose half of a machine or more per year in setups alone. With the Makino MMC, we have no setups. This allows us to run about two week 'buckets' of work."
The company now processes over 40 different part numbers in various metals including cast aluminum, extruded aluminum, aluminum bar stock, cast steel, cold rolled steel, stainless steel and cast iron. "Within a week and a half, these parts will be going on the assembly line. So the Makino MMC has helped us manage our work-in-process, requiring us to be less reactive while running parts just-in-time," says Gulbrandson.
Improved operations
Lou-Rich has improved the efficiencies of various segments of its operation since acquiring the Makino MMC and HMCs. Blomquist, who is the CNC programmer responsible for managing the Makino MMC, says the cycle time reductions have been the most impressive change in their operation.
"Makino did a time study on one of the parts we needed to run, and achieved over a 20 percent reduction in cycle time primarily due to the high rapid traverse rates, the 0.9 second tool change and rapid machining rate of the A55E machines," says Blomquist. "Makino also helped us understand how to design our fixtures for the MMC and the process to best use them.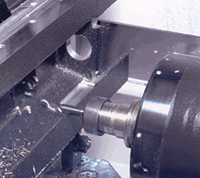 "What has impressed me the most is how the cell works together. Besides the HMCs putting out the work faster, the whole cell puts it through faster due to the pallet change integration. We feel it would take 2 to 3 times as many stand-alone CNC machines and operators to get the throughput we're getting with the Makino MMC. They have quickly become our favorite machines, and because of the cell, this has become our favorite project.
The primary function of the MMC at Lou-Rich is to manufacture the components for a medical scanner base assembly. It requires the production machining of a high mix, low volume of parts from extruded aluminum, cast aluminum, aluminum bar stock and cast steel. Most work is fairly tight tolerance machining, requiring various different drilling, tapping, milling, and reaming operations.
Blomquist adds that the Makino Pro3 machine control and B2 cell controller software, along with proper preparation, makes a difference in machine performance and tooling. "You have the cell controller, the software and the machine; Makino makes everything so that it works really well together. The software behaves as if we had written it for ourselves. Without the superior training we received, we could not have gotten it to work as quickly or as well as it did. Training from Makino and its distributor, Productivity Inc. made the difference.
"Our tooling costs have also dropped because of the rigidity of the machine operations, and our discovery of what through-spindle coolant does for the life of the tool. Tool life management and tool breakage protection in the software ensures that the Makino machinery keeps running smoothly. We can definitely see the financial and time-saving advantages.
Enhancing the process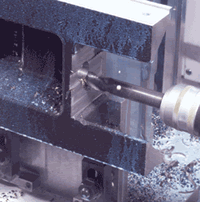 The Makino MMC also provides additional process enhancements to the Lou-Rich operations, according to Gulbrandson. "It has had a positive impact on our purchasing process. We can order smaller material quantities because of our continuous flow of parts, allowing us to manage less work in process. And as an ISO 9000:2000 company, our additional paperwork processes coordinate well with the performance of the MMC to help ensure our production schedule and our accuracies. This machining cell can handle whatever it is asked to do. That has never been an issue."
Performance has improved and costs have been lowered. "Process improvements, setup time efficiencies, throughput, flexibility; all of these things have been enhanced. If we had to do all of this work without the Makino MMC, the overall cost per part would increase substantially," says Blomquist.

Copyright © 2004 by Nelson Publishing Inc. Appeared in January 2004 issue of Tooling & Production magazine