MACHINE TECHNOLOGY SUPPORTS JIT PRODUCTION - META MFG.

The need to provide rapid manufacturing of low- to medium-volume production parts, and of special parts being run for design and assembly customers, was the bottom line for META Mfg. Corp. (Cincinnati).
"The challenge for a Tier 1/Tier 2 supplier is to offer flexibility and performance to customers whose orders have blossomed to the point they no longer have the capacity to run them internally," says president Dave McSwain. "But this requires us to compete with transfer line pricing to get the work, and that is extremely difficult to do without a transfer line. We need quality equipment to get the job done on time and at a competitive price."
Founded in 1988, META now employs 40 people and has 29 CNC machines and two six-axis robots. The company operates around the clock via two flexible 10-hr shifts, producing prismatic parts from castings, forgings, and extrusions. Typical jobs include transmission housings, gear boxes for agricultural equipment, air compressor frames, steering knuckles, brake adapters, and brake calipers. META also undertakes die-cast wheel machining for OEM automotive customers.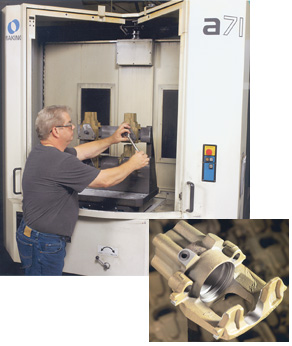 Operator sets up ductile iron brake calipers for machining on META Mfg.'s Makino a71 HMC. Caliper production requires 33 operations, including milling, drilling and boring.
The company's need for speed and JIT flexibility was especially acute for the manufacture of Humvee (Hummer) brake calipers for the US military at the height of the recent conflicts in the Middle East. META had been machining calipers at a rate of 40 vehicle sets (80 calipers) per day; however, demand increased to 200 sets per day in preparation for the Afghanistan and Iraq phases of the war on terror. And, the company was required to ship JIT every day to the assembly plant per scheduled releases.
The new requirements resulted in development of new processes and technology acquisitions. According to operations engineer Bob Strunk, the machines META was using for the ductile iron brake calipers were not removing metal at a fast enough rate. And, their lack of rigidity resulted in vibration and chatter in the two-operation, 33-tool machining process.
META found the production solution to this challenge in the a71 horizontal machining center from Makino (Mason, OH). "Makino took care of both of those problems," says Strunk. "The Pro3 controller and a71 design allowed us to better manage our workload and get closer to the part due to the deep Z-axis movement. This allows me to use shorter tools, which, along with Makino's rigid construction, eliminates vibration and chatter. With the high-speed spindle, this improves our speeds and feeds and increases tool life.
Strunk says the machine reduced time in and out of cut, improved quality, and freed up labor, allowing a single operator to run the machine and perform additional tasks. "And, most importantly for JIT work, we have had no downtime on the machine at all in nearly one year," he adds.
McSwain notes that job shops are competing in a straightforward competitive environment. "Whoever can do the job the most accurately, on time, and for the best price, wins," he says. "We typically win jobs on lead-time, meaning the ability to deliver in a panic. The a71 has helped us to achieve annual price reduction levels through cycle time reduction and reduced inventory level requirements."
According to McSwain, every job shop faces machine acquisition risk. "I don't have a long-term contract, but I do have an expectation of how long this contract should run, and that is my risk," he says. "A job shop has to take that risk in anticipating that the job will last long enough to address the cost component of the machine. It is a risk we take every time we buy a machine, and it is my job to keep work on the machine to minimize that risk.
"The faster cycle time of this machine has allowed me to reduce my finished goods inventory to cover daily pull demands," he continues. "We can be more flexible with our labor schedule and our run schedule, increasing our flexibility, profitability, capacity, and volume demands and enhancing our ability to meet customers' price reduction demands.
"We need work and profit to survive. And, machine technology makes the difference," says McSwain. "Extra productivity justifies the investment in new equipment, if it is fast, rigid and affordable.

This article appears with permission from Manufacturing Engineering the official publication of the Society of Manufacturing Engineers (SME) November 2003 and may not be modified, added to or reduced.