As parts manufacturers are being forced to get more out of their machine tools and operators to stay competitive in today's global environment, there is no room for waste in the manufacturing process. In the past, reactionary repairs as equipment failed may have been sufficient to support manufacturing operations. And as part quality degraded, recalibrating equipment after a failure was often "good enough." In fact, some manufacturers planned for potential machine problems by having redundant equipment on hand to pick up the slack.
  But with machine time and operator costs at a premium, these antiquated practices are no longer acceptable.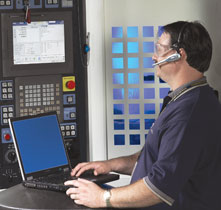 Machine uptime is not a luxury; it's a necessity. Parts suppliers can no longer afford to have equipment break down or fall out of specification at all, at any time, for any reason. When there is unplanned down-time, idle machinery and operators are no longer productive, causing detrimental erosion to manufacturing efficiencies and profits.
 To help remedy this situation, new production techniques such as lean manufacturing are becoming increasingly more popular for modern-day manufacturers to be successful. Under this lean approach, manufacturers must eliminate waste, minimize downtime, shorten setup, and streamline production throughout all process operations.
 It is also important to note that one of the key components in lean manufacturing is predictive and preventive maintenance (PM), because redundancy and unplanned events are inherently waste-items in the process. When equipment is not well maintained, unplanned machine downtime often results in a ripple effect of waste and cost in the manufacturing process.
Too little preventive maintenance increases downtime and reactionary repairs. Components wear out prematurely, often when a job is in mid-process or a deadline is near. Since the repairs are unplanned, there can be delays with replacement parts or service, making the downtime even longer. As a result, expediting charges or other premiums for rushing to get the repairs create increased costs.
  Then, once the repairs are made, often only the necessary repairs are done. This is due to the fact that the machine needs to get back on line as quickly as possible, creating the very real possibility that other potential defects in the machine are overlooked. These other potential defects then fail unexpectedly at a later date and the cycle starts all over again, resulting in even more waste and costs. Unfortunately, this is an all-too-common scenario in many manufacturing environments.
Expressing a common theme, one large tier-two manufacturer told me that "even after considering the planned machine down-time to get the PM done, overall productivity is still higher and costs are lower since the unplanned gymnastics are significantly reduced."
 Not only does a PM plan keep your machinery uptime closer to where it should be, overall, it also relieves much of the stress caused by unplanned downtime. Stress as it relates to meeting customers' demands, dealing with service calls, ordering replacement parts, and the pressure unplanned downtime puts on your workforce.
 This is especially true in lean environments, where personnel are often required to perform PM. Many operations who run very lean have a workforce focused on their primary task, and therefore have little time left over to devote to perform the predictive and preventive maintenance necessary.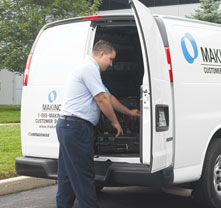 "I can't express the value we've gotten out of our PM program," said Craig Steinmeyer, of SRPM in Solon, Ohio. SRPM is a job-shop that specializes in prototype work. They've experienced firsthand the anxiety associated with machines that don't perform as they should when improperly maintained. One such event cost their company tens of thousands of dollars in lost revenue when a spindle of a non-Makino horizontal went down for several months.
"We run a lot of jobs that have short lead times and if something were to go down, we'd be up against a wall. With the PM plan we have in place, we know our machines are always running at their best. And if there were a problem, we have easy and fast access to getting things back up and running. We won't be burned again by a machine that's unprepared for the demands we put on it."
Makino understands these production pressures and resource constraints, so Makino offers a variety of progressive service and support packages unmatched in the machine tool industry that can be customized to ensure maximum uptime:
Life Cycle Services (preventive maintenance, service contracts, calibration and diagnostic services, machine relocation, production support, etc.)
Second-shift, third-shift, or weekend service to minimize downtime
Technical support
Parts support
Operations, maintenance, and application training
 Makino has assisted many customers with their predictive, preventive, and routine maintenance needs by providing knowledgeable, factory-trained personnel to take over the PM activities. With standard predictive and preventive processes developed, the service is performed quickly but thoroughly so the machine can get back into production. And the experienced staff of highly trained service experts is fully committed to assisting any other service needs to maximize uptime and productivity for the life of the machine. By shifting these critical maintenance activities to Makino, the manufacturers' valuable internal resources can then focus on their own core competencies.
For additional information on Makino's service capabilities, please contact Sam Shine, Materials Sourcing and Control Manager, at (513) 573-4402 or by e-mail at Sam.Shine@makino.com.