Impeller Part Demo Summary
The objective of the MC1010-5X demonstration is to exhibit the combination of thin wall machining and 5-axis contouring. This cutting technology is used in both land-based turbine and aircraft engine production. A major focus of the demonstration will be on the capability to manufacture blisks on a horizontal machining center. Most blisk manufacturing takes place on 5-axis vertical machines. The type of machine movement and programming shown here is also used in the production of engine blades.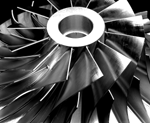 Process Benefits
The ability to easily change pallets, neutralizing setup time
The ability to progress to advanced levels of automation including a pallet pool and Model C software
Horizontal machining eases chip removal and disposal
Horizontal spindle orientation permits more advanced lubrication and sealing technologies for spindle cooling — this ensures that the tool is following the programmed path for a precision finish Specifications
| | |
| --- | --- |
| MATERIAL: | 6061-T6 Aluminum |
| TOOLING: | 5 Tools |
| SPEEDS: | up to 10,000 rpm |
| FEEDS: | up to 120 ipm |
| TOTAL CYCLE TIME: | 59 Minutes, 30 seconds per blade |
---
Honeycomb Part Demo Summary 

The objective of the MC1010-5X demonstration is to produce a part that exhibits both thin wall and contour surface finishing. A majority of the Honeycomb part's wall and floor surfaces have thicknesses of .030". The part also features a mold part line which utilizes 5th-axis programming.
Process Benefits
This thin wall machining process will not only produce consistent, quality parts, but it will also create parts that weigh less when compared to parts machined with traditional processes. The thin wall machining process used in this demonstration can also produce parts which previously were handled as whole-structure assemblies. The 5th-axis programming feature reduces cycle time by eliminating kellering on the mold part line.
Specifications
| | |
| --- | --- |
| MATERIAL: | 6061-T6 Aluminum |
| TOOLING: | 5 Tools |
| SPEEDS: | up to 10,000 rpm |
| FEEDS: | up to 300 ipm |
| TOTAL CYCLE TIME: | 48 minutes |