MACKAY MANUFACTURING USES LEAN CELLS TO SUCCEED IN HIGH-MIX, LOW-VOLUME PRODUCTION
Many North American manufacturers have struggled to grow in the face of global competition and economic uncertainty. These factors have challenged the industry, put pressure on prices, and forced many shops out of business.
MacKay Manufacturing of Spokane, Wash., had a history of steady growth from its inception in the 1950s as a high-mix, low-volume job shop. As competition began to rise and the slowdown of 2001 pummeled many in manufacturing, the shop witnessed decreasing profits and saw no signs of a quick bounce back.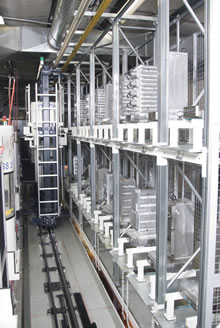 "The real wake-up call was when we weren't awarded a large contract from a customer," says Mike MacKay, who took over as president of the company in 1984. "They did a review and said they could only award the contract to a lean shop. We thought we were lean, as far as we understood the term. It was devastating."
MacKay, determined to become lean, knew the company needed to change three things: manpower, machines, and methods. But he also thought that most of the manufacturers that benefited from lean methods were high-volume production shops, not job shops with many part numbers and small batch runs.
"We spoke to a lean consultant and to manufacturers of flexible manufacturing systems to find out what a job shop could do to be lean," explains MacKay. "We decided that some fundamental changes in the way we manufactured parts were needed to allow us to grow again."
Step1: Manpower
"After years of doing things one way, it's difficult to re-evaluate and see what other options are out there. It's hard to admit you're not doing things the best way," explains MacKay. "Our team went to several places renowned for lean thinking to learn more about what lean really is."
One trip was to Disney World in Orlando, Fla., where MacKay and his team saw how the theme park focused on analyzing situations to extract every bit of efficiency.
"It shocked me to learn that they actually did studies to determine how long a light bulb would last, and how far someone is willing to walk to use a a garbage can instead of throwing trash to the ground," says MacKay. "We learned that lean is about solving problems before they happen and putting systems in place that keep things moving forward at all times in an efficient manner. That's the kind of thinking we needed to apply to our business."
As the lean initiative took hold, MacKay found that even changes in management were necessary. He also found that some people had to be moved around. Since they were able to streamline their shipping department, for instance, he had two extra employees. Today, the two employees are programmers at MacKay. Personnel changes like these made the whole shop more efficient and provided new opportunities for several of his valued employees.
"We focused on who is best suited for each area, not just what they were hired to do," said MacKay. "We even experimented a bit--moving people to another area. It was an interesting test that gave everyone a bigger perspective of how our system works and provided many new ideas for improvement."
Once the changes were made, new process refinement suggestions started flowing in and improvements began to occur. While the manpower side of the equation was being fixed, MacKay analyzed the other two key components that needed to change: machines and methods.
Step 2: Machines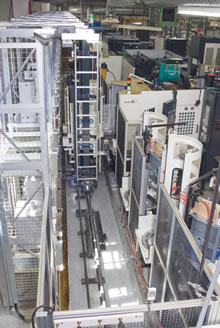 "We had a serious problem with process inefficiency, mostly due to the technology we had thought was efficient," explains MacKay. "When you have stand-alone vertical machining centers in a job-shop environment, you're always waiting on part setup, testing, and manual part movement. Machines sit idle and machinists are forced to perform nonvalue- added tasks such as blowing chips away every few minutes to keep things cutting."
MacKay recognized that for some jobs, this inefficiency was unavoidable. But he knew that much of their work could be completed using better technology and processing methods. MacKay invested in horizontal machining centers as a solution, based on a horizontal's ability to pallet change and better manage chip removal. The first horizontal MacKay purchased was a Makino A55, which today is 12 years old. The A55 still handles short-run titanium parts.
"The horizontals made a revolutionary change in our operation," says Gregg Meyer, MacKay department supervisor. "We were worried about accuracy, as many of our parts are for tight-tolerance medical applications in stainless steel or titanium. We had it in our heads that only a vertical could handle much of this work, but once we saw what the Makino could do, that worry quickly dissolved."
MacKay continued to invest in Makino horizontals with purchases of four standalone machines that included an A55 Delta, an A55E, and two new a51s.
"It's a testament to Makino's quality when you're able to machine medical titanium parts on a machine that's over 10 years old," adds Meyer. "The horizontals outperform our verticals every day." Due to the success of the horizontals, MacKay is gradually moving all work from verticals to horizontals, with the intent to abandon verticals for all but a few jobs in the future. The real efficiency move, though, was toward automated flexible manufacturing systems.
Step 3: Methods
Shortly after seeing how horizontals could help their process, MacKay saw potential in converting to automated pallet handling systems, even in a jobshop environment.
"We're low-volume, high-mix, dealing mostly with medical and aerospace components made of steels," MacKay explains. "Setups drag our cycle times down, so we thought the most efficient way to handle our production was through a flexible, automated system. The addition of the cell was the beginning of a whole new method of production."
MacKay's first cell was a Makino MMC2, featuring two a51s and a 24-pallet-handling system, along with a 313-tool magazine for each a51. The larger magazine provides unattended, uninterrupted machining, eliminating the need for manual tool changes. Operators are able to keep tools for common jobs at hand to accommodate quick production runs that might be added. The cell also keeps common part programs in memory, so a quick part changeover is only a few keystrokes away.
"It's not uncommon for us to build 50 parts for a customer, where we'll get all the way to the plating operation when the plater burns one up, leaving us with 49," says MacKay. "So we have to go back to our supervisor and request one more. For most shops, this request consumes substantial time and ultimately money. With the Makino cell, we simply call up the pallet. The tools are already in the magazine, and the program is loaded in the machine. We set the machine to produce one more, and the next available machine loads it up and spits it out, without any setups needed. So we deliver our full order without a lot of overtime or headache."
The automated cell frees up operator time to work on setups while other parts are cutting. The machines no longer wait on setup. They work on parts from the 24 pallets to keep the spindles always cutting, loading a part only when it is ready to be machined.
Meyer cites a particular part with which the shop struggled. It took eight hours of setup time for five operations, totaling 40 hours of time, in which no other part could be run in the machine. With the MMC2, running parts during the setup procedures, prep work on the part was reduced to less than 30 minutes, and the spindle never stopped to wait for the part to be loaded. The cell did all the work and never had to sit idle while an operator loaded a part.
"Setup used to be our biggest area of time wasted on the shop floor," explains Meyer. "As long as the part's running through one of the cells, we don't even keep track of setup time anymore. There's no need. It's nonexistent."
With successful integration of their first cell, MacKay invested in another similar cell with three a51s. It sits directly across from the original cell, only 30 feet away. MacKay's lean cells run 24/7.
Standardization
"It wasn't an accident that when we began buying horizontals, we started-- and stuck--with Makino," says MacKay. "We chose a single platform that we knew we could rely on and could standardize training, programming, tooling, fixtures, everything. Using one brand has provided us with increased operator efficiency and consistent, predictable results, which is of great importance in lean."
Most of the Makino horizontals MacKay has purchased are a51s, including the machines being used as part of their MMC2 cells. Having a similar horizontal machining platform allows MacKay to utilize a few job-shop tricks for quick part production, like customized fixtures.
"Custom fixturing is the next step toward lean manufacturing, considering that nearly 85 percent of our business comes from repeat orders," adds MacKay. "Utilizing a limited number of machine tool manufacturers has allowed us to create fixtures that are compatible with all of our machining centers. Custom fixtures on a standard machining platform is a good example of how a job shop can use lean. We take the lean techniques of high-volume production shops and tweak them for our unique mix of parts and low production quantities."
Tool Management
"We didn't stop with the cell," continues MacKay. "Another significant change we made was a computerized tool management system. This is especially important for a job shop where you have thousands of part numbers. You can be overwhelmed with the number of tools if you aren't managing them properly."
Previous to the development of the tool catalog, each job had its own box of tools. This situation led to an unaccountedfor number of tools that could have been used in numerous other jobs.
In addition to the tool management system, MacKay changed the way his programmers used tooling. They were given a menu of tools from which to work. Instead of being able to order a specific tool for a feature, they had to select from a standardized tool list. This standardization helped reduce tooling expenses even further.
"A year and a half ago, programmers would get any tool they wanted. Our tool list was long, with hundreds of specialty tools," explains MacKay. "We limited programmers to a select menu of standard tools and installed a centralized tool catalog. We use a computer system that details how many tools are in stock and the tools' condition. With sales increasing 30 percent, we saw our tool costs stay the same with this new system. That's a lot of savings."
In addition to a tool catalog and custom fixtures, MacKay added in-house secondary operation capabilities to the shop, which had previously been sent out for processing at other companies. The addition of a tumbler for medical devices requiring special finishes and heattreating equipment for smaller medical parts permitted the company to provide finished part services that expedited delivery and enhanced MacKay's role as a partner to its customers.
Growing Again
"The integration of lean methodology through manpower, methods, and machines has put us back on the right track," says MacKay. "Our process is significantly more efficient. We stand at a 99.7 percent customer acceptance rate, and we are growing again." 
MacKay Manufacturing has risen from its slump, with a sales growth of 176 percent in the last four years and with only a 17 percent increase in employment. This means that the implementation of lean management and methodology, coupled with the performance of their Makino lean flexible manufacturing systems, has given the company a 200 percent increase in sales per employee.
But to Mike MacKay, perhaps the biggest benchmark in his shop's lean journey came with a re-evaluation from the company that had denied him a large contract because his shop wasn't lean.
"We told them we wanted another shot at the project they denied us. They came in and were shocked at the transformation. We had become lean by even the most strict definition of the term, and are now used as an example of lean for others. This year, we'll be doing a million dollars of business with them," says MacKay with a big smile on his face.
For more information on the topics covered in this article, view these webinars: The Evolution of Lean,Equipment ROI: Cells and Management Systems, More Efficient Tool Management.  
MacKay Manufacturing
Spokane, WA
(800) 533-3422
www.mackaymfg.com