THE RIGHT MACHINING INVESTMENT PAYS BIG DIVIDENDS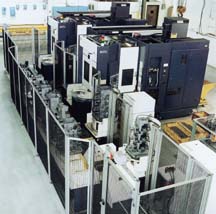 To stay competitive, today's manufacturers must balance significant investments in current technology with the overall return on those investments. This concept is especially true for smaller companies striving to succeed in an increasingly global marketplace. Just ask Joseph Nook III, vice president of manufacturing operations for Nook Industries. The company manufactures worm-gear actuators that vary in size from a quarter ton to 100 tons, as well as a full line of ball screws, shafting, self-aligning linear bearings, various reducers, lead screws and direct drives.
Nook III says the company may not be the largest manufacturer in its field, but that does not stop them from competing on a global scale. "We compete by customer satisfaction; we satisfy our customers."
He credits the company's leadership and innovation to two primary assets-technology and people. "We invest in technology, and we also are able to compete because we have employee involvement." Investments in technology have helped Nook Industries drive costs out of the manufacturing process and ultimately improved cycle times, productivity, customer satisfaction and the company's own bottom line.
"We are giving our customers what they expect. We deliver a high-value, high-quality product, on time and at a reasonable cost," says Nook III. When the company identified a need to reduce cycle times and improve productivity and profits without the need for big hikes in customer cost, they turned to Makino for the right solution. Makino offered smart, savvy technology with a return on investment that was impossible to resist.
Top-Line Thinking that Makes Bottom-Line Sense
Joseph Nook Jr. started the company in 1969. He is the father of Joe Nook III and his brother Chris, who serves as vice president of sales and marketing. Today, the company prides itself on being the world leader in thread rolling technology and rolled thread product. "Because we integrate all the services it takes to manufacture that product," says Nook III, "we feel we make the best rolled ball screw."
The company produces quality products for the medical, food processing, semiconductor, satellite, communications, oil refining and machine tool marketplaces, the latter of which includes lathes, grinders and rapid prototyping machines. "When you have a ball screw and a ball nut, you want to make sure your lead errors are controlled, and your ball circle diameters are controlled. Otherwise, you end up with noise and certainly some lost motion and backlash," says Nook III.
Staying ahead of the competition has meant staying ahead of the curve for Nook Industries. "We are very process driven, really taking a look at processes, tools, cycle time reduction, flow and cellular manufacturing," explains Nook III. The company turned to Makino, which had the technology that would take Nook Industries from three separate machines, used primarily for the production of ball nuts and actuator housings, down to one single integrated system. Because these processes required individual setups and operators, Nook III saw the opportunity for using the Makino Modular Machining Complex (MMC) with state-of-the-art B2 cell controller software, 10 pallet stacker stands (soon to be expanded to 15) and two A55E horizontal machining centers (HMCs) to greatly streamline their manufacturing process.
Driving costs out of the manufacturing process is the key to success for manufacturers, both large and small. Sometimes it takes a significant investment to see significant results. However, when an investment offers substantial returns, the initial cost becomes a negligible point. Joe Nook III lives by that philosophy.
"On just five of our actuator housings - a small part of our offering, but a good representation - we have saved a significant amount in cycle time costs alone," says Nook III. In fact, he credits the MMC with contributing to an estimated average cycle time reduction of 75 percent and an overall average cost reduction of 40 percent. These numbers make it is easy to justify the company's investment.
Because of such results, Nook III does not shy away from technology; he embraces it. "Technology has allowed a company of our size to compete with $250-million and $300-million companies, which have complete plants, marketing departments, and sales teams set up for one specific product line," says Nook III. "Whether we are producing ball nut bodies from one and one-half inch to four inches, or jack housings from a half ton to 20 tons, nearly 85 percent of our high-volume machining is now done on the Makino A55Es and MMC."
A Trusted Leader in Innovation
Makino is a pioneer in automated pallet handling systems, installing almost a thousand MMC systems worldwide. The MMC system allows one machine and work setting station to expand to 15 machining centers and four different work-setting stations. It can handle up to 200 pallet stockers and an unlimited number of parts and fixtures, virtually eliminating setup times. The system assigns work and initiates operations automatically based on machine and material availability and maximum spindle capabilities. The cell controllers utilize PC-based software to maximize output while monitoring all production activities on the multi-machine system.
These automated features allow innovation leaders like Nook Industries to compete in an ever-increasingly competitive and demanding environment. Nook III says the MMC has cut lead times of six to eight weeks down to one or less, while reducing times for processing, part production, material handling and part inspection. This efficiency has helped the company serve customers better and faster. "The Makino technology has played well into what we set out to do, reduction of lead time, reduction of cost and increased quality," says Nook III.
The near elimination of setup times has been another big operational cost savings for Nook Industries. Before transitioning to the MMC, the company spent an average of nine hours for setup on three machines. At that rate of production, Nook Industries had to keep significant inventories on hand to service the markets. The MMC allowed them to reduce inventory over the past two years, while increasing on-time delivery to 95 percent.
This new system has allowed Nook Industries to reduce work on turning machines, vertical machining centers (VMCs) and HMCs. "We have actually taken a vertical and horizontal machine off the shop floor. They had become obsolete, and we were able to take 100 percent of their workload and do them on the Makino cell." He also notes that a significant amount of work, which was annually subcontracted or outsourced, has now been brought back into the company due to the Makino machine capabilities.
Tooling and labor costs have been dramatically reduced. The unattended machining hours gained from the A55Es and MMC allows Nook Industries to have better flexibility with the machinists working on the floor.
Not Just Another David and Goliath
The success of Nook Industries is more than just a fluke. It takes a dedication to advancement and a willingness to evolve in order to rise to the top in the manufacturing world. Throughout the company's existence, Joe Nook Jr. has seen a lot of trends come and go in manufacturing. The one thing he says you can always count on is change. "This is the nature of the business," he says. "Everything changes, and it is going to continue to change. Obviously, advancements in technology give us the advantage to keep moving ahead." Nook III agrees with his father's philosophy. "To continue to participate in the global market, you have to have the technology," says Nook III. The Makino system gave Nook Industries the technology it needed to drive production to the next level. "We have taken the Makino technology and put our entire product lines across the MMC. And because of this upgrade, we have enhanced many process measurements and reduced our overall operational cost. We also know that if a customer wants something done, we can take the order and do it."
By utilizing technology and working closely with Makino to innovate processes, Nook Industries has capitalized on significant ROI for impressive results. Nook III credits the relationship with Makino as making a difference in the success of implementation. "We talk with Makino weekly. The communication has been incredibly beneficial," he says. "The MMC has required minimal service. The quality and dependability of the machine are tremendous assets."
Steve Mason, CNC milling supervisor for Nook Industries, says the MMC has been extremely beneficial in their floor operations. "I think it has done everything we envisioned it to do and even more," he says. "The reliability of the machine is unbelievable." Mason says the MMC gives Nook Industries an upper hand over the competition. "There is no doubt in my mind that we are making a better quality product in better time."
Joe Nook III says that without the MMC, Nook Industries may not have been able to attract some of the customers they have today. "I think in terms of overall cycle time reduction, increased inventory turns, tooling savings, and the reduction in setup times, we have demonstrated significant cost savings. We are happy with our ROI. But more importantly, without this technology, a company like Nook would not be able to compete in the marketplace. It is the cost of competing in the global market."

Reprinted by Permission of Production Technology News