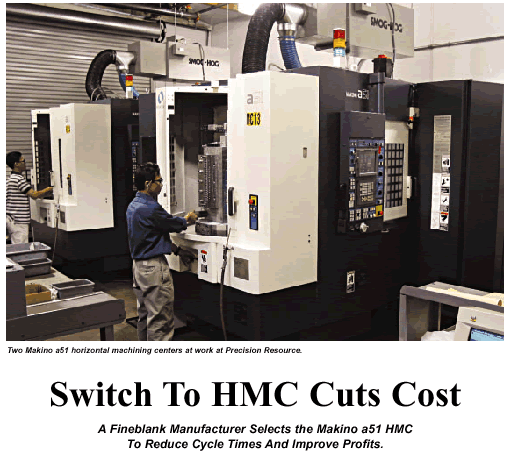 Precision Resource California Division (PR-CA) believes that investments in new technology can strengthen a company's market presence. Located in Huntington Beach, California, the branch of one of the world's largest fineblanking manufacturers recognized the need to increase its capacity and step up production efforts because of the extremely competitive landscape.
          Traditionally using vertical machining centers (VMCs) for its secondary finishing operations, PR-CA wanted to take a new approach. They began researching the metalcutting market to find a machine that could handle existing jobs and also one that would allow them to expand their capabilities.
          Instead of acquiring another vertical, PR-CA approached HMC builders with a sample program to determine which horizontal machining center (HMC) could meet specified criteria. This included reduced cycle times, fast cutting rates, high capacity and repeatable quality with very little dimensional variation from the first part through the millionth part.
          While the company cooperated in tests with several different machine suppliers, Eric Fisher, manufacturing engineer at PR-CA, reports they ultimately selected the Makino a51 horizontal machining center.
Achieving Results
          Makino introduced the a51 in late 2001 as the first of its 1-Series HMC line, a family of economically priced machines for high-production applications. The a51 has a 15.7-inch (400-mm) pallet and utilizes a high-performance spindle that can accelerate to 12,000 rpm in 1.1 seconds. PR-CA put their Makino a51 HMC into operation in early 2002.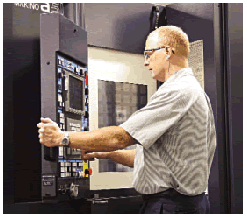 Since they began using it, the company has significantly increased production capabilities and has saved thousands of dollars of production costs, according to Fisher. At the same time cycle times, preventative maintenance costs and machine downtime have been reduced. 
          The a51 has decreased PR-CA's operational cycle time by approximately 12% in producing an automotive component. Production cycles on 20 parts produced with seven tools have gone from 7 minutes and 47 seconds on their newer, high-performance VMCs to 6 minutes and 50 seconds on the Makino a51.
          "Buying a horizontal machining center gave us more flexibility than ever before," Fisher says. "And because of our new investment in the a51, we are definitely reducing overall manufacturing costs. The a51 saves us at least $1,000 a week. The timesavings and extra production justifies the increase of going vertical to a horizontal. We've seen savings on cycle time and increased production."
Key Advantages
          One of the biggest advantages that the a51 provides over its vertical predecessors is its chip removal capability. Fisher says that PR-CA installed chip conveyors into their verticals to facilitate chip removal.
          However, because the machines cut such fine chips, about 60 percent fell into the coolant tank. PR-CA eventually replaced the conveyors with paper media to catch the chips and had to dedicate time out of the end of each shift to clean out the machines.
          The design of the a51 avoids this situation, a51 uses a wide center trough with rear discharge a lift-up chip conveyer to facilitate high-volume chip evacuation. A 26.4 gpm (100 1/mm) base coolant washes the inside of the machine and flushes the chips onto the conveyor.
          Fisher says that the chip evacuation system on the a51 is responsible for making their operations about 15 percent more efficient, since there is no downtime for cleaning chips out of the machines. "We had a lot of downtime on the verticals-probably at least a half hour per shift-just to clean out the machines," he says. "The chip conveyor in the Makino a51 does a much better job. The interior of the machine never needs cleaning, since all the chips drop to the appropriate spot. The conveyor is a scraper with a drum filter. We have not had to dedicate any maintenance to the machine as far as the chip conveyor is concerned."
          According to Fisher, the a51 is extremely good at hitting tight spots and has drilled holes at tolerances of ±.0005". In addition, the machine's Pro3 control has a tool-life monitoring feature that PR-CA uses on every job. Tools are automatically monitored and changed when they are worn, allowing less skilled operators to run the machine.
          Fisher adds that capacity was almost as key a factor as speed with the a51. "We originally looked at the Makino for increased capacity. In addition, we can have multiple jobs set up on the same tombstone, as well as machine multiple sides of a part. We also liked the a51's small footprint, as we are very cramped for floor space. The a51 fits very well in our floor layout."
HMCs Find Little Rest
          Because of the success of the first a51, PR-CA purchased a second and has continuously experienced cost savings.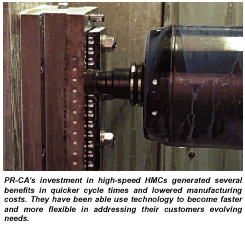 According to Fisher, the a5l's are operating and running 100% of the time. 
          The majority of spindle time is spent running high-volume jobs, but the machine is always ready for quick change over to lower volume jobs, as fixtures and tooling remain setup on the tombstones and in the tool carousel. 
          "We have always looked at Makino in the past and thought of it as a high-quality machine," Fisher admits. "What kept us from purchasing a horizontal machine in the past was cost. Makino has now provided a solution for that as well with the a51."