THE CHALLENGE
All Axis Research & Development LLC of Claremont, N.H., creates prototypes for clients in the electronics, aerospace, glass and industrial printing industries. It also manages larger runs and creates fixtures for the parts it designs.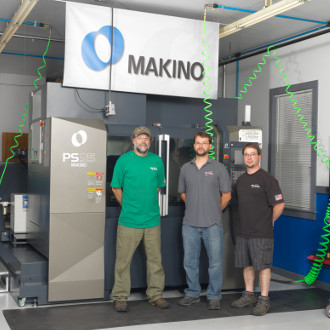 Because it is regularly producing prototypes, the company handles a variety of materials and parts. On some of its smaller jobs, with quantities under 10, All Axis found itself performing a lot of setups and programming as it handles engineering and proves out products. It needed efficiency to handle those runs, along with the capacity and flexibility to handle the unique challenges of each prototype. All Axis also needed advanced machinery that could perform roughing on tough materials, such as 4140 heat-treated steels and 45 HRc parts.


THE SOLUTION
With the company running its existing equipment nonstop, All Axis needed to invest in infrastructure. It required something extremely rigid with fast spindle speeds that would not only work well for many years but also retain its value. All Axis acquired a Makino PS95 vertical machining center based on the machine's performance, accuracy and overall reputation.


THE RESULTS
With the PS95, All Axis has been able to reduce its cycle times by up to 50 percent over previous vertical machining centers. In fact, the company is achieving the highest metal-removal rates on the PS95, compared to its other machines. The machine's rigid design and rapid Z-axis movements have led to faster milling, drilling and plunging, and pecking operations can now be completed in one clean Z-axis plunge.

All Axis is able to use more advanced tooling—drilling through six inches of aluminum with a quarter-inch drill in just seconds instead of minutes. It can handle tight-tolerance holes and slots at plus or minus 0.0002 inch with great repeatability.

The company is completing prototypes on time, on budget and with exacting tolerances. This effort has resulted in more orders as the company now bids on jobs that it once had to pass on.