THE CHALLENGE
MacKay Manufacturing is a high-mix, low-volume job shop in Spokane, Wash. The majority of the products it manufactures are medical and aerospace components made of steel.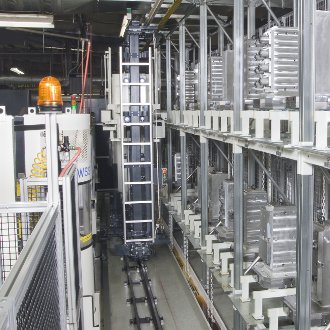 Years ago, as the economy slowed and competition ramped up, MacKay was determined to practice Lean manufacturing, but knew it needed to change its manpower, machines and methods to do so.

Its goal was to reduce setups, since it was MacKay's biggest time-waster. The first step was to go to several organizations known for their lean thinking to learn about how they implemented Lean. The next step was replacing its stand-alone vertical machining centers with high-performance horizontal machining centers. Next, it wanted to add production efficiency through a flexible machining cell. All of these things would help it better meet customer standards.

THE SOLUTION
MacKay's first horizontal machining center purchase was a Makino A55. For over a decade it handled its short-run titanium parts with total accuracy. This success led MacKay to continue to replace its vertical machining centers by purchasing these four machines:
• An A55D horizontal machining center
• An A55E horizontal machining center
• Two a51 horizontal machining centers with 313-tool capacity magazines on each machine.

The next step was to implement a flexible manufacturing cell by purchasing an MMC2 automated pallet handling system with 24 pallets to automate its existing a51 horizontal machining centers.

The larger tool magazines provide unattended, uninterrupted machining, eliminating the need for manual tool changes. Operators are able to keep tools for common jobs at hand to accommodate quick production runs that may be added.

MacKay next invested in another flexible machining cell with three Makino a51 horizontal machining centers. Because 85 percent of MacKay's business is repeat orders, producing custom fixtures on a standard machining platform is another good example of how MacKay practices lean manufacturing.

THE RESULTS
MacKay's two flexible manufacturing cells run 24/7. With 24 pallets, the spindle is always cutting, freeing up operator time to work on other tasks. The company no longer keeps track of setups because they are now nonexistent.

The company purchased a computerized tool management system to handle its thousands of part numbers. It details how many tools are in stock and their condition. With sales increasing 30 percent during its first year implemented, the company saw its tool costs remain the same with this new system.

By integrating Lean practices through its manpower, methods and machines, MacKay is enjoying 99.7 percent customer acceptance rate and continued growth. Over four years it saw sales growth of 176 percent with only a 17 percent increase in employment. It estimates that with its new Lean manufacturing principles and flexible manufacturing cells that the company has seen a 200 percent increase in sales per employee.