THE CHALLENGE
Master Cut of Schaumburg, Ill., enjoys a diversified customer base in the medical, aerospace, tool and die, mold and automotive industries. When the company got its start as a two-man operation, it used a non-auto-threading machine for its die and mold operations which required full-time operator presence.

When Master Cut found itself turning away orders due to machinery limitations, it knew it needed to find a wire EDM machine capable of accurately machining large jobs and to find another that could handle small, very precise holes. The company's goal was to grow its business, so it began investing in new technology that would help it decrease cycle times while deepening relationships with current customers and creating opportunity with new customers.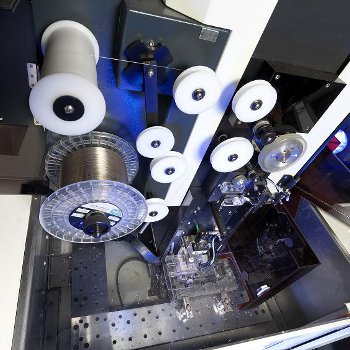 THE SOLUTION
Some of the company's employees had previous experience with Makino machines, which led Master Cut to invest in a Makino U86 wire EDM machine to handle a variety of part sizes, especially larger parts.

Master Cut also needed a smaller machine with round guides for the small holes it wanted to thread, so the company purchased a Makino DUO43 wire EDM machine for high-precision small holes.

Master Cut hoped that investing in new technology would increase efficiency while lowering costs.

THE RESULTS
The U86 gave Master Cut the capacity to handle nearly any size job, including those in other large-part industries that the company had previously turned down—such as off-road vehicles, energy and industrial equipment.

The user-friendly U86 enabled Master Cut to machine a 4,500-pound block with a 20-inch tall cut and tolerance of 0.0002 inches on the first run during the first day. It had tight, consistent accuracies on even its largest orders.

With the DUO43, Master Cut machined a part against its previous machine, and it took less than half of the time—going from 360 minutes to 170 minutes.

Similarly, it needed to produce a cell phone part requiring 23 holes of 0.023-inch diameter. The popped holes started at 0.015 inches, making threading a concern. The DUO43 finished the job without a misthread, and with unprecedented accuracy.

The machine's speed, agility and repeatability decreased cycle times by as much as 60 percent. The fast cycle times and excellent finishing, which have eliminated manual work, helped Master Cut take on tight-margin jobs while still turning a profit. In fact, the DUO43 has turned out to be the most productive machine in the company's shop.

With the DUO43, Master Cut is using half as much wire as it previously used. When parts are finishing faster, that also equates to additional reduced wire usage. In fact, Master Cut estimates it saved about $26,000 in wire alone during its first year with the Makino machines.

The company has already deepened relationship with its existing customers by not turning away work, and has opened up opportunities for work with new customers.