Thal Precision in Clark, New Jersey got its start in 1980 doing aluminum tooling and small tooling repair jobs. Fast forward four decades and this multi-generational, family-owned business has evolved with the times, becoming a recognized manufacturer of complex molds and high-precision tooling for some of the largest brands in the molding industry.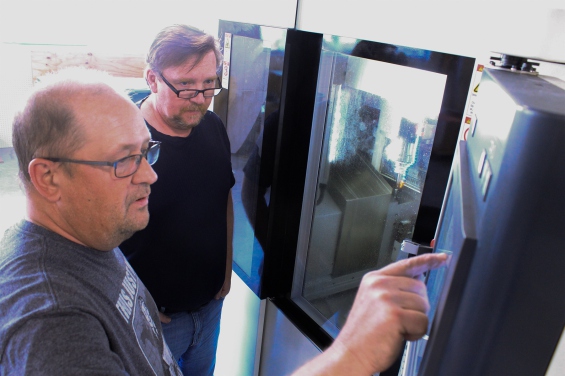 Relying primarily on EDM machining, Thal was producing a lot of electrodes and spending a significant amount of time programming. EDM will always have a place in the mold-making industry; however, it can be very time consuming due to programming multiple Graphite Machining Centers and Sinker EDMs. Utilizing multiple setups always introduces the possibility of human error. Thal needed a solution that would allow more flexibility while increasing capability, since most of its work is highly detailed and requires substantial hand finishing.
The need for a new solution became overly apparent while running a single cavity job with lots of small, detailed channels the "old school" way; making electrodes and burning it. The final operation involved hand polishing the part to a mirror finish. However, upon inspection, 0.005" to 0.007" wave-like part deviations were found in the finished piece. Being in spec is critical—especially when machining highly-detailed pieces. Every part that is out of spec ads increased scrap and costs per part. Thal realized that immediate change was needed and so its management team began the search for a better solution.

Growing Pains Bring Fundamental Change
That's when Paul Thal, general manager of Thal Precision, reached out to Makino's Jason Chomenko to chat about solving their issue. Jason explained that with Makino, Thal could machine-finish highly complex parts. The immediate machined surface would be smooth with a minimal need for polishing. Any polishing necessary would be extremely subtle, less time consuming, and wouldn't create the hills and valleys in the part that occurred with the original EDM process.
With Jason's help, Thal determined that a Makino D200Z would give them the speed and precision needed for its medical part and tooling applications. Thal chose to change the entire way it operated— moving from EDM operation machining to hard milling
reducing electrode consumption by 90%
. Hard milling produces parts closer to the desired net shape. This allows operators to simply shine up the piece and avoid heavy hand polishing that could rub away the form, causing parts to be out of spec. Thal was able to
reduce benchwork form 60 hours to 15 minutes per tool.
While Thal wasn't ready to add automation initially, Paul revealed that Thal selected the D200Z specifically for "the quality, speed, and the ability to automate down the road." The capacity to automate in the future was attractive— especially to Natech Plastics, the company which recently purchased Thal Precision. Natech is both an engineering and molding group that utilizes engineering and manufactures with a core competence in injection molding. The D200Z's capability for automation hit home with Natech and Thal, as in the future they would have the ability to run prototype molds on aluminum blocks.

A Partner in Growth
Implementing hard milling and 5-Axis machining wasn't a decision that Thal made lightly. Employing this new technology was a massive change and it was the largest investment in the company's history. More importantly, it would be a culture shock for the shop and its operators. However, Thal knew it was necessary to overhaul its approach in order to increase capability and have more room to grow as a company.
Paul revealed, "It was a tremendous amount of information we were bringing in at that point. We were going from a 3-Axis shop to a 5-Axis, hard-milling shop. Not only did we not do 5-axis, but we never did hard milling before. It was a big curve."
Jason and his support team at Makino and Makino's sister company Single Source Technologies (SST) quickly reinforced to Paul that going from a 3-Axis to a 5-Axis world would not be as much of a massive undertaking as he anticipated, as he would not be doing it alone.
Makino's Die Mold division holds many resources for companies to utilize. A good example of this is being able to take an HPM class at Makino's Die Mold Headquarters in Auburn Hills, MI. In this informative and educational class, programmers and operators study how to process parts and learn Makino's cutting strategies that will ultimately propel a company's success. Single Source Technologies provides the applications and service support locally. These expert support resources were highly appealing to Thal Precision as well.

Thal chose Makino because it wanted a true partner—a company that could provide not only the technology, but the service, application support and resources it needed to succeed. Thal knew "teamwork" was essential for a successful outcome. Paul stated, "Fundamentally, we had anything we needed at our disposal. The machine wasn't just brought in here and dropped off…from the guys who rigged it in, did a great job leveling it out, and made sure we had everything we needed… to the technician who came in and set it up and made sure everything was right, to the application guys who came in and got us up and running…that was all tremendous."
A Change in the Way We Think
With over a year of D200Z machining tools under its belt, Thal is looking at adding other cutting-edge Makino digital technology: HYPER CONNECT for EDM, MHmax on its milling products, and Athena. Plus, Thal is continuing the Makino partnership by bringing in a U3 Wire EDM and EDGEi Sinker EDM.
"We're still growing and finding new things to do with [the D200Z]," Paul said, "Each day is a new opportunity to learn."
Thal is now able to run shorter lead times, increase billable hours and has a more repeatable process with superior accuracy and speed. Paul said the new technology has produced "a change in the way we think."
Thal Precision
A Division of Natech Plastics
Clark, NJ
https://thalprecision.com/