How Triumph Structures Increases Productivity
What matters most to leaders of Triumph Structures–Wichita is keeping the aerospace components manufacturer on the leading edge of machining technology in order to meet customers' requirements for quality and on-time delivery.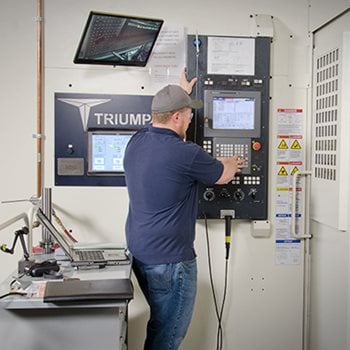 But when you're making monolithic structural parts for commercial and military aircraft, few machines are big enough for the job. That's why the company invested in the first Makino A6 in the United States. With this 5-axis aluminum machining center in production since July, Triumph has exceeded its goals in three ways:
Lowered cycle times by more than 50 percent for aluminum parts previously processed
on a gantry-style vertical machining center
Reduced part changeover and setup times from hours to minutes on some applications,
thanks to the duel automatic pallet changers on the A6
Increased peak metal removal from 80 cubic inches per minute to more than 500 cubic
inches per minute

"We strive to be a world-class facility. We want to not only deliver on time with good quality, but we also intend to be world class through our processes and the way we cut aerospace structural parts. In order to do that, we obviously need to have world-class equipment to support that dream," said Kelly Eilerts, applications manager for Triumph Structures–Wichita.

Big Parts, Big Challenges
Triumph Structures–Wichita is a division of Triumph Group, a global leader in manufacturing and overhauling aerospace structures, systems and components. In Wichita, Kan., Triumph makes a variety of jet aircraft and helicopter parts, and transports them to other Triumph facilities for subassembly before delivery to original equipment manufacturers (OEMs).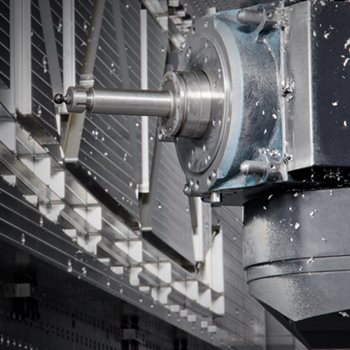 Triumph makes complex aerospace parts out of titanium and aluminum. Some of the billets start out as large as 3,000 pounds and 17 feet long. To machine such massive workpieces, the company continues to invest with Makino. By the middle of 2017, there will be 18 Makino's including the A6, three T2 5-axis horizontal machining centers for landing-gear trunnions and other hard metal parts, and 14 MAG3 5-axis horizontal machining centers for high-productivity machining of aluminum aerospace parts.
The T2 machines enable Triumph to machine titanium and steel parts at a cutting feed rate of up to 630 inches per minute. They are able to efficiently mill titanium as a result of several advanced technologies, including an active damping system, rigid construction for enhanced performance, a high-torque, high-powered spindle, and a high-pressure, high-volume coolant system for increased speed and productivity. A third T2 is being relocated from another Triumph location to grow the company's titanium capabilities in Wichita.
The fourteen MAG3 machines, including both standard and MAG3.EX versions, run at 33,000 rpm to machine wing ribs, wing spars, bulkheads, floor panels and stringers. An additional five MAG3 machines are also planning to be moved from another Triumph facility and installed within a Makino MMC2 pallet-handling system to create a cell dedicated to wing ribs.
"With the combination of the MMC2 and MAG3 machines, we're able to run large aluminum parts 24/7 with an overall equipment effectiveness [OEE] of 85 percent," Eilerts said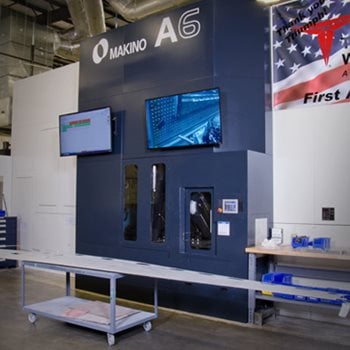 .
For the largest wing skins, spars and ribs, however, Triumph had previously relied on a gantry-style vertical mill. While capable of producing parts that meet OEM requirements, the machine limited the company's ability to grow with the booming aerospace industry. Specifically, Triumph needed better thermal stabilization to improve precision. The gantry-style machine is enclosed by four walls, but has no roof on its cabinet and thus no climate controls, exposing the spindle, tools and workpieces to temperature changes in the shop. With programs scaled to account for temperature variation, the process is slow and operators must take multiple temperature readings before, during and after processing.
In addition, the gantry-style machine has no external workstation for setting up pallets or means of changing tools automatically. The spindle must be stopped each time a tool is replaced or parts are loaded and unloaded, resulting in unproductive time. The operators must shut down production and work inside the machining envelope.

What's Behind All That Power
While parts can be accurately produced on the gantry-style machine, it requires more time than a high-speed horizontal mill like the A6. The vertical spindle on the gantry-style machine turns at 25,000 rpm, powered by 80 horsepower. The A6, meanwhile, is equipped with a 33,000-rpm horizontal spindle, powered by 161 horsepower.
"This speed and power upgrade enables Triumph's operators to hog out metal on the structural parts in some cases as fast as 1,600 inches a minute," said Ricky Davis, director of operations at Triumph and a veteran of nearly 30 years at aerospace manufacturers in the Wichita area. "I've never seen a machine move that fast."
To control thermal variation, which can affect tolerances, the A6 is equipped with its own HVAC system that pumps 45 tons of chilled air into the machine enclosure to keep the work envelope as well as the bed casting and the automatic tool changer at 68 degrees Fahrenheit. Coolant is automatically chilled or heated as needed to maintain a constant temperature in the spindle, tooling and workpieces.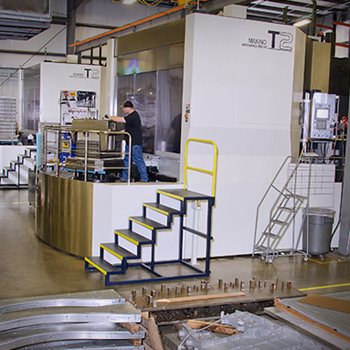 "The gantry machine is much larger, but the temperature taken at the beginning of machining is not going to be the same as the temperature taken at the end of machining. That can introduce a lot of variables. Heat from the machine itself is added as it's moving. Coolant temperature changes. This affects the temperature of your part. With the A6, all of these variables have been removed. That makes it much easier for us to machine large parts accurately and consistently without having to scale our programs," Eilerts said.
What really influenced Triumph's decision to invest in the A6, however, are the opportunities the machine creates to improve productivity.
The A6 is equipped with two work tables outside the machine. This design enables operators to set up pallets with any combination of jobs, which currently feature four versions of wing skins and spars for those wings, a wing rib and three versions of helicopter floor panels. Ergonomic worktables are lowered into a horizontal position to enable operators to safely and comfortably bolt and pin workpieces into position. Once setup is complete, the worktable is raised into a vertical position and is ready to be moved into the A6 just as soon as processing of another part finishes.
Triumph takes full advantage of this capability. The company runs two 12-hour shifts on weekdays, with one operator scheduled on the A6 during each shift. Before weekend shifts, jobs are set up in advance and are ready to be run by an operator who splits time on other machines on Saturdays and Sundays.
"That's where the multiple tables come in handy, because we are able to use our limited resources on a weekend to unload and reload a part while the machine is still running," said Nick Raffety, the lead A6 operator.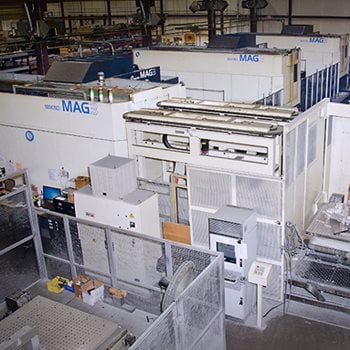 Equipped with an advanced Makino control, the A6 also can be programmed to automatically shuttle loaded pallets in and out of the machine, freeing up operators to handle other tasks. Triumph also equipped the A6 with Makino's MPmax software to monitor the machine's performance, including what programs it ran, cycle times, tool-change times and utilization rates. MPmax can alert operators and managers to issues or when it's time for a part change. This is just one way in which Triumph's team is continually learning and implementing new features to expand unattended operations.

High Speed - And High Quality
Investing in an advanced aluminum machining center with the capabilities of the A6 is a significant business decision. Triumph made the commitment in no small part because of the capacity the horizontal machining center adds to its Wichita facility. The company had one customer in mind when considering the investment and selecting the A6 to make wing skins and wing spars for a specific commercial platform. But Triumph now uses the A6 for so much more. In the first four months of production on the A6, the company has been able to move additional parts from the slower gantry-style machine onto the A6, as well as win new commercial and military orders. Faster cycle times that result from the speed and power of the A6 in addition to productivity gains from having two pallets are the key.
"We're able to do things so much faster than we anticipated that we've put ourselves in a position to realize a full return on investment within just a few years and faster than we had planned," Eilerts said.
Some of the faster production can be attributed to the machine control on the A6. Most of Triumph's T2 and MAG3 machines use the same type of control system, making it easy for operators to quickly learn how to run the A6 without extensive training. Triumph also has standardized 121 tools in the A6's ATC, and collaborated with Makino's aerospace engineering team to revise and standardize programming.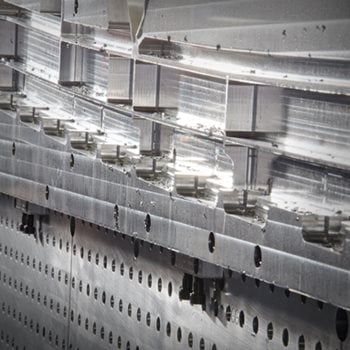 With Makino's engineers, Triumph focused on developing new machining methods and manufacturing processes to make full use of the A6's features. The result is not just speed but also precision and quality, with repeatable tolerances of plus or minus 0.0001 inch and surface finishes of 32 Ra. The need for secondary finishing has been reduced as a result.
"The parts coming off the A6 are in the 30 Ra range or better, which is four times greater than what our customers require. It's very impressive to hold that kind of surface finish with the feeds and speeds we're running at," Eilerts said.
Because of this combination of speed, precision, repeatability and high quality, the A6 enables Triumph to expand its relationships with customers and to also pursue new customers. The A6 also keeps Triumph Structures–Wichita right where its leaders want to be—on the cutting edge of manufacturing technology and learning new ways to make better aerospace structural parts for less cost.
"We're still proving out our processes and parts, but we have a lot of parts we could run on the A6 and reduce our cycle times by 40 to 50 percent," Davis said. "We're just getting started." Triumph is now planning their next step with Makino.

# # #
Triumph Structures–Wichita
Wichita, KS
(316) 942-0432
www.triumphgroup.com