THE CHALLENGE
Little Lakes Machine & Tool
of Stratford, Ontario, specializes in custom tooling for powdered metal parts. These tools are put under a lot more stress than typical molds and the materials are rated very high in hardness and abrasiveness. Most of the materials used in the company's tools are between 55-65HRc—work that is not easily accomplished by most shops. The process is used to produce power transmission components, structural shapes and aerospace brackets.

Little Lakes Machine & Tool wanted to improve hard milling accuracy and finishes. It also needed technology that could handle small, intricate parts for a new business opportunity.
THE SOLUTION
Little Lakes had not yet worked with Makino and decided to send a part to Makino for competitive testing. Makino developed a process and completed the part. After Little Lakes saw the results Makino delivered—in addition to the superior application support they provided— they opted to purchase a Makino V33 vertical machining center. Once the V33 was on the shop floor and experienced solid results, Little Lakes decided to purchase a Makino V22 with a 40,000 RPM spindle for micromachining solar panel tooling.
Little Lakes wanted to utilize Makino's unique HQSF (High Quality Surface Finish) technology, so they purchased a Makino EDNC43S sinker EDM machine for an aerospace aluminum application. The success of that machine led to the purchase of an additional EDM machine, the Makino EDAF3S.
THE RESULTS
Implementing The Makino V33 reduced cycle time by 85 percent using a sintered metal 62HRc compacted tool—cutting Little Lakes' existing 26-hour production time to just 4 hours. The accuracy and finish were so close to the final spec that EDM procedures and associated electrode production were able to be eliminated.
The V22 also provided extended reliability in long run-time hard milling applications on a solar panel tool, where the male side required 21 days of uninterrupted processing—including a 0.1mm ball endmill that ran for 16 hours without breakage. The Hybrid Automatic Tool Length Measurement system enabled setups to be performed offline without interrupting hard milling processes and allowed operators the freedom not to stand at the machines all the time. This meant operators could be redeployed to perform more valuable tasks while still allowing machines to operate on two shifts during the week and run unattended over the weekend.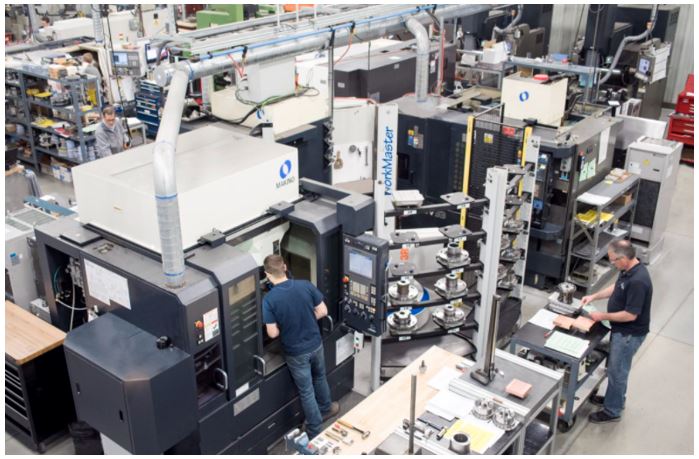 The EDNC43S with HQSF technology provided superior finishes over Little Lakes' existing EDM machines and faster cycles times in deep vertical geometries. This allowed Little Lakes to pick up new aerospace business and they expanded their capacity by acquiring an EDAF3S sinker.
Little Lakes Machine & Tool represents quality customer service and reliability and expects the same from their machine investments and suppliers. With the support of Makino and Single Source Technologies, they have increased their efficiency—producing two shifts' worth of finished products in just one shift.
Makino has been a valued partner to Little Lakes for over 17 years. Continuing that trusted relationship, Little Lakes recently purchased a V56i VMS for larger capacity as well as an A51nx HMS to support its new product capability.
Learn more about
Makino's Automation
.