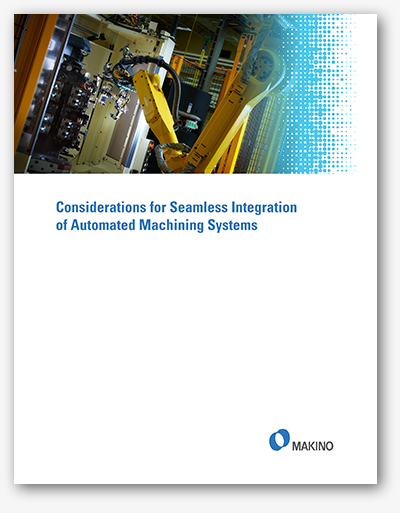 Across nearly all facets of manufacturing—automotive, die/mold, aerospace, aero-engine—automated machining systems are increasingly being utilized by manufacturers looking to gain an edge, boost production capacity, and improve flexibility of the production system.
However, despite the numerous benefits of automated manufacturing systems, the process of implementing them can be an intimidating and daunting process for first-time investors. The easiest way to simplify installing an automated system is to enlist the help of an automation expert or single-source supplier. Following an automation blueprint can also provide a detailed overview of what's needed for a successful implementation.
A seamless integration of automated systems must begin with proper upfront planning. Prior to the implementation kickoff, it's wise to run an analysis that will justify the cost and prove that automation is a viable solution. This analysis should specifically quantify whether implementing an automation system will increase machining efficiencies, decrease labor costs, lower scrap production, decrease lost work time, and improve the work environment.
After the analysis reveals that automation will provide positive results, the next step is to obtain company-wide acceptance across all departments. Since investments in automated systems affect more than just the shop floor, it is important to involve leadership from all areas of an organization—from the executive board to IT/network management to engineering—to ensure correct decisions are made.
The subsequent step is to determine the content and scope of the project. This includes defining the product to be machined, production process, and operational processes. Execution begins with a thorough review of all project designs, as well as establishing milestones. Examining the scheduling process to ensure that all components are set to arrive at the appropriate times is essential for adhering to established milestones.
Selecting the right suppliers and integration partners is critical and can simplify all aspects of the project. This is especially important for first time investors in automation. Choosing multiple suppliers can result in a mismanaged project and finger pointing. It can also prove costly with budget overruns, missed deadlines, and process flows that don't align properly.
The Considerations for Seamless Integration of Automated Machining Systems whitepaper showcases a comprehensive blueprint as well as offers specific steps organizations should follow when implementing automated machining systems. Having a thorough understanding of the process can help companies avoid pitfalls, mitigate unexpected expenses, and have a worry-free implementation experience.
Download this essential whitepaper now and discover what factors are needed for a successful implementation of automation.